Health Camp Strong Roots-Tapo Mbarete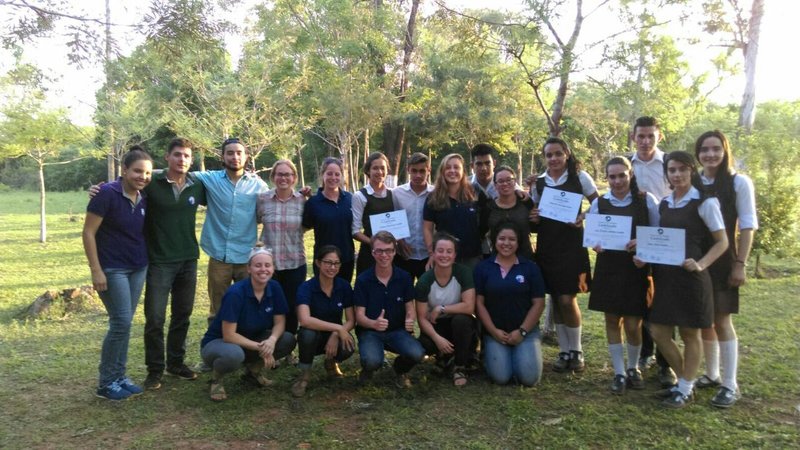 Oct. 23, 2017
Tapo Mbarete - Strong Roots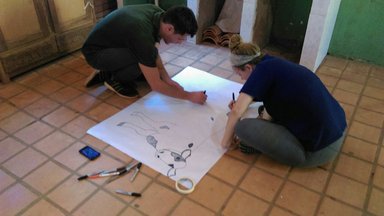 Throughout my service, I have worked closely with the two Agentes Comunitarias at the Unidad de Salud Familiar, my host organization, facilitating clubs among  other community wide activities. Although only one of them was assigned as my official counterpart, the three of us work together and my service activities are considered an extension of their health promotion work. The agents, or health promoters, conduct home visits and occasionally do presentations at the elementary school and high school in site mostly on illness prevention topics. With eighteen different communities under their area of influence, sometimes it is difficult to coordinate frequent activities in these educational settings.
At the local high school, my work with the students has focused on nutrition, life skills, and working in the student garden. A couple months ago, the high school director approached me and asked if it would be possible to come in for a couple of sessions to work with the 10th graders on sexual reproductive health topics during her psychology subject class. I saw this as an opportunity and asked the health promoters if they would be interested in collaborating to work at the high school. The three of us worked together to develop a series of six, three-hour long workshop style sessions with an integrated focus on life skills, gender development, and sexual reproductive health. I live in a rural site and there are still some taboos surrounding sexual health topics. Having local health professionals co-facilitate these classes helped alleviate some discomfort. Furthermore, the promoters helped with the language barrier aspect, facilitating at times in Guarani, and conveying information in a more culturally sensitive manner. The workshops were also an opportunity for the agents to experience a different style of delivering health information, which involves the use of dynamic activities and icebreakers aimed at helping the students feel more comfortable thus prompting more participation.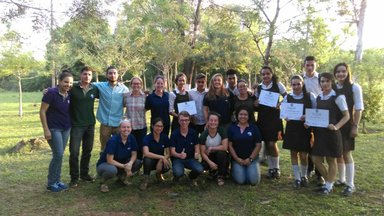 The closing activity for our taller was planned to take place during Semana de la Juventud, september18th to 22nd and coincided with Paraguay's Youth Day and the start of the spring season. I met with the high school director to present the plan for the closing activity along with a project proposal for a health camp with the 11th and 12th graders attending the afternoon session. The idea was to take advantage of this week to celebrate youth and conduct informational activities so students could make healthy informed decisions about their general health and sexual wellbeing. I received a very enthusiastic response and an inquiry about involving all high school students. To this end, I reached out to fellow Community Health sector volunteers and extended an invitation to come to my site for a day to participate and facilitate the various planned activities.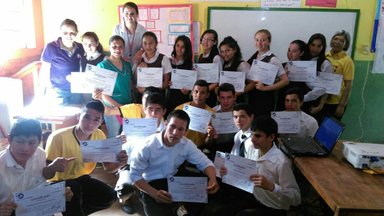 Our Jornada de Salud Juvenil "Tapo Mbarete", which translates to "Strong Roots" from Guarani, took place on September 19, 2017. Both morning and afternoon sessions started with a presentation on family planning and birth control methods facilitated by the Community Health Agents followed by rotations facilitated by volunteers on topics such as health & well being, nutrition, self-esteem & body image, consent, first aid, stress reduction activities, and Grass Root Soccer Youth (HIV/AIDS and Sexually Transmitted Disease).  The rotations incorporated dynamic activities using skits, dance, videos, and writing thus engaging different learning and expression styles. A total of 110 students participated in this Jornada de Salud.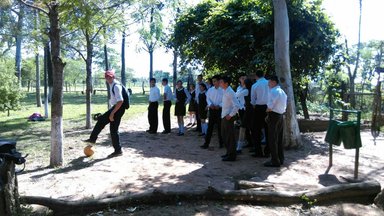 My service activities leading up to this camp have been focusing in bridging the gap between the medical and educational institutions in site and to open more avenues for collaboration. Furthermore, during the last months of service, we will continue to work closely, so that the health promoters can satisfactorily team up with teachers in other communities, to plan for and lead similar health education activities. The camp has been received very positively amongst staff and community members alike in my site. It was also meaningful for the students as they had the opportunity to interact with and share their Semana de la Juventud with ten other diverse Peace Corps volunteers. Overall this experience enabled me to work in helping with capacity building in site as well collaborating with host country nationals and other volunteers alike in empowering Paraguayan youth to lead healthier lifestyles.