Earth Hour means a lot of things for a lot of different people. It could be in the form of climate change, reforestation, etc. But for the people of my town, it means panda costumes and torch lit tours. 
Earth Hour is the largest environmental grassroots movement in the world. It started in 2007 in Sydney Australia and has since grown to more than seven thousand cities in more than 170 countries, and since 2015 it has been a part of my pueblo. My little town happens to be home to the largest Jesuit ruins in South America which offers a unique opportunity to do something creative for Earth Hour, hence the idea of torch lit tours was invented, but more on that later.
STAGE 1: When March comes around, the kids at the local elementary schools know the routine. I do my short lesson on Earth Hour and they proceed to make luminarias from cut plastic soda bottles, dirt, and candle sticks. After giving each student a personal invitation to share with their families, we say our goodbyes for the time being.
STAGE 2 OF PREP: A teacher at one of the elementary schools, and a few youths cut down bamboo sticks, which we proceed to saw into 1 meter sections, then wrap old donated jeans around each of them, secure them with wire, and waa-laa! We have our torches. Prep is taken care of. Now it's time for promotion, promotion, promotion.
PROMOTION: In addition to handing out fliers to every kid in each of the four local schools, I spoke about Earth Hour and the local event on 5 different radio programs in 3 neighboring cities. What would it hurt to get the word out?
THE OBJECTIVE: How do I get community members interested enough to ask "What is earth hour and why should I go?"
THE SOLUTION: Create a balance of fun and professionalism, and... offer prizes.
FUN: With the help of more youths in my community and other volunteers we paraded around town in a full sized panda costume, in 100 degree weather, making appearances at the local elementary schools, eateries, and the Jesuit ruins. Appearances, that turned into photo shoots, that turned into the best promotion possible for kids who wanted nothing more than to take more photos with the panda during the actual event. SCORE! The kids were also made aware of a tour through the ruins by torch light, and a raffle at the end of the official hour with donated prizes consisting of shirts, bags, hats, books, art, and more.  TRIPLE SCORE!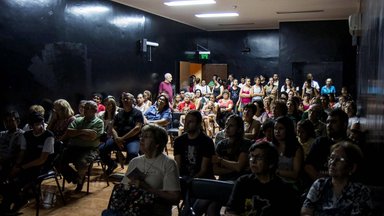 PROFESSIONALISM: I made calls and secured representatives from WWF, PROCOSARA, and Encarnación Sustentable to come and speak about Earth Hour and their organizations and afterwards be a part of an environmental fair in which people would have opportunities to speak with representatives of these institutions in addition to representatives of Peace Corps, and SENATUR (The National Secretariat of Tourism).
THE DAY: Everything is prepped hours beforehand. I double check my list and assign everyone assisting with the event their jobs: photographer, slide operator, torch lighter, the human panda, booth representative, raffle ticketer, and of course the candle lighter squad.
6:30 PM: Official commencement. No one shows up on time, but culturally this is expected. I can't help it and my nerves are getting the better of me. Refusing to sit still I continue quadruple checking everything.
6:45 PM: Packed House. Let's rewind just a minute here to March 19, 2016. I was three months into site, 40 minutes into my biggest project to date, and NOT ONE PERSON had shown up. An hour in and there were roughly 30 people. Now fast forward... 15 minutes into the event this year, and people are packed into the back and out into the hallway because all 90 chairs are occupied. Feeling slightly emotional and immensely relieved, I begin with my presentation.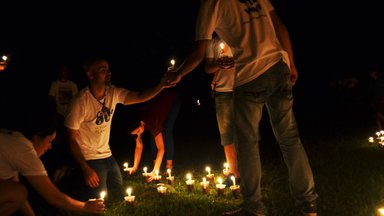 7:20PM: Speeches are going well, the environmental fair and photo shoot with the panda are coming up. Evidenced by the number of young kids in attendance, I know promoting the event in a hot and sweaty panda costume was worth it. The panda's going to have one busy night.
8:15PM: More than one hundred people took photos with the panda in a scope of thirty minutes. The booths are busy and everyone's having a good time. The educational part of Earth Hour is almost over and the fun is currently underway.
8:30PM: The hour has arrived. Outside of the gate to the main entrance of the ruins stands a hoard of people waiting for their torches. The tour guide gives a brief explanation of the history of the ruins and then, they enter. My excellent torch person assisted by her fire fighter boyfriend, dips each torch in kerosene, lights it, and hands it out. This part is by far the most fun for the kids and adults. We continue the tour through the ruins with our torches and are guided by the recently lit candles courtesy of the ever timely, candle squad. I struggle to enjoy myself as well but I can't help but notice a group of teenagers having torch fights. Thirty seconds after I take away their torches and they resume their torch fighting with newly acquired torches. I take those away too, and five minutes later they have new torches, only now they are standing under a tree, trying to set it on fire. Not on my watch. I miss out on some of the fun but preserve the integrity of the tour and that is success in my book.
9:25PM: We end with the raffle and for each smiley face that wins a prize there are ten shouting "Trampa (Cheat)!" There's always next year guys! I revel in the fact that the grand prize, an excellent piece of art donated by a local celebrity artist goes to the preschool teacher. She deserves it. I get the final headcount from the raffle ticketer. Four hundred people. WOW.
At the end of the night I reflect on a months work of preparation and promotion. Was it all worth it? Does the community truly understand what Earth Hour's about? Most of the adults do, but do the kids? Do they care? Maybe, maybe not. But one thing is for sure, mention Earth Hour, and the kids smile. They shout "Oso Panda (Panda Bear)!" or talk about that time they got to hold a torch. And for right now, for me, that's enough.
7:10PM: What my community didn't know was that Peace Corps was celebrating their 50th anniversary of having volunteers working in this beautiful country. As a special tribute, I contacted 5 previous volunteers going so far back as 1988, and asked them to send photos of their best memories spent with my host community along with a video telling people in the community who they had come to know as family how much they missed them, and missed this place. After the video I see a few emotional faces in the audience and have to fight back my own emotions to deliver my all so true final word, "We volunteers come here with grand ideas about how we're going to assist and improve our communities, but in the end you guys give us more in return than we could ever give you, and always end up improving us as people, so much more than you will ever know".
If you're interested in knowing, here are some more details about how we were able to pull off this event. 
We used these materials:
Torches (Old clothes, jeans preferred, wire, bamboo) 40-60

Luminarias (Cut Soda bottles, dirt, candles) 200-300

Fliers (Fred Hayden from Encarnacion Sustentable helped create a flyer specific to the event  and I posted as many as           possible all over the neighborhood and gave them out individually as well)

Kerosene (3-4 liters for 40-50 torches) (Torches last about 30 minutes so don't hand them all out at once

Organizations who were invited and/or presented:
Peace Corps, WWF, SENATUR, Encarnacion Sustentable, and PROCOSARA

Radio promotion received:
Radio in Trinidad, Radio Yvy Pyta in Hohenau, and Radio Itapua in Encarnacion

Prizes: 
WWF donated shirts, local artists donated recycled bags, decorated water bottles, and ceramic figures, PROCOSARA donated bags and hats, Peace Corps donated a bag and a book.