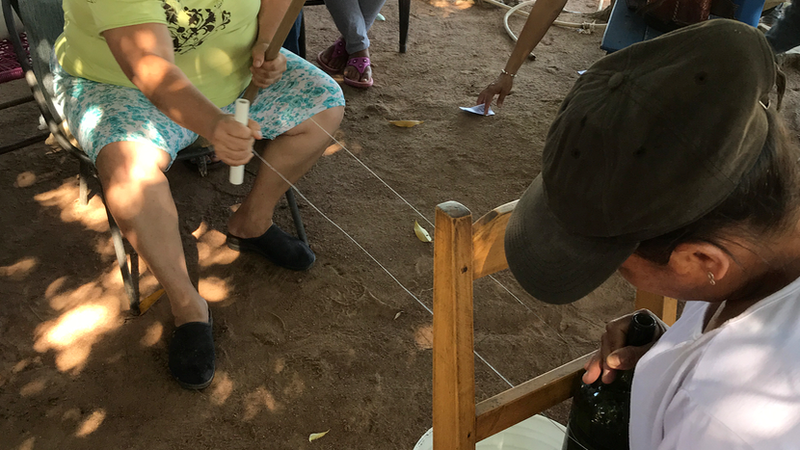 Feb. 12, 2020
When moving into my house, I began collecting glass bottles.
When moving into my house, I began collecting glass bottles from friends and neighbors so that I could cut them like we had learned in training in order to make drinking glasses and vases and save a little money. I loved the resourcefulness of the activity and was exciting to try it out on my own in site. I had mentioned my idea to Maricel, the president of D.E.A.G., because I thought that if it was successful, it could be a potential activity that we could replicate with some of the local comités. After gathering the minimal necessary materials, one afternoon Maricel and I got together to experiment and learn how to cut the bottles on our own so that we felt comfortable teaching the process to others. That same day, we cut more than twenty bottles together in Maricel's backyard!

From there, we brought the drinking glasses that we had cut from wine and beer bottles to the comité (committee) meetings to show the productores(producers). They loved the idea and each brought their own glass bottled they had collected to the following meeting so that Maricel and I could show them how they were made. After demonstrating the process only once or twice, the members of the committee quickly got the hang of it and cut one bottle after the next. We left each member a piece of thin wire of their own to keep and use to cut more bottles in the future or when they got back home. One comité member loved the idea so much that she began crocheting a sleeve covering for the recycled glass vases in order to make a little vase and sold eight of them at the local fair!

We replicated the bottle-breaking activity with 4 comités in total, and once at San Marcos during their final week of classes as an extracurricular activity. Overall, it was a fun activity and a great bonding experience between the members of the comités and students – it was especially satisfying to see the excitement and joy on their faces when they would successfully cut a glass bottle!