Panama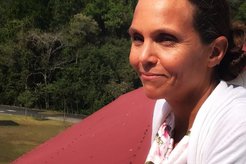 I am pleased to join the entire Peace Corps Panama team in welcoming you to this website. Through these images and words we hope to express the dynamic diversity of this country with natural beauty and resources, rich history, warm and friendly people, and opportunities to confront growing development concerns.
In 1960, President John F. Kennedy challenged the American people to do something bigger than themselves, and for the benefit of someone other than themselves. He challenged them to serve their country and the cause of peace by living and working in the developing world. Our Volunteers in Panama take on this challenge every day, and are creating meaningful change as a result. They work in partnership with their communities to promote sustainable solutions in the areas of English Education, Environment, Agriculture, and Water and Sanitation, while promoting the dignity of people and their capacity to improve their own lives. The activities implemented in the communities where we serve contribute to a fundamental transformation in the lives of the Panamanian people, and Volunteer support plays an important part in bringing about this positive change.
Volunteers here are supported by a highly qualified, motivated, and passionate team who are dedicated to the development of Panama and the success of Volunteers. We are very intent on creating a strong learning-oriented organizational climate with readiness for change.
If you join us, I can promise you that your influence will be felt in ways that you cannot imagine.
Thanks,
Anni