FOR IMMEDIATE RELEASE:
Friday, November 15, 2019
World Wise Schools program celebrates 30th anniversary during International Education Week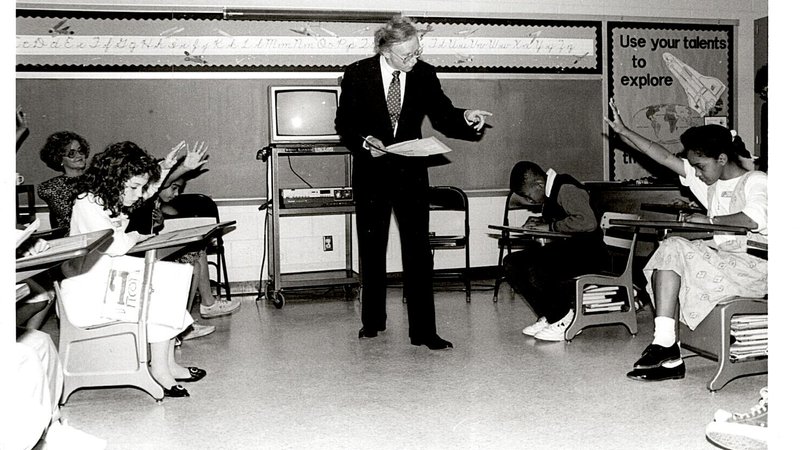 WASHINGTON—Today the Peace Corps' Paul D. Coverdell World Wise Schools (WWS) program celebrates the 30th anniversary of its founding by sharing new interactive resources that teach intercultural understanding and global competence to young people. Over the past 30 years, more than two million students and 25,000 Peace Corps volunteers have engaged with WWS.
In 2019, 3,985 Peace Corps volunteers—over half the total population—participated.
Established in 1989 by former Peace Corps Director Paul D. Coverdell, the WWS program provides over 500 online resources to U.S. learners, teachers and current and returned Peace Corps volunteers. Educators can use published WWS materials to teach understanding and respect for other cultures worldwide. Teachers can incorporate WWS materials into existing study units or use them as the centerpiece of an interdisciplinary curriculum. Around 13,000 educators per year access and engage with these materials.
"It's through the World Wise Schools program that anyone in the U.S. can see into another society and meet people from across the globe in an intercultural exchange," says Katie Hamann, a Peace Corps program specialist on the team that runs World Wise Schools. "I truly believe this is key to creating a globally competent classroom, community and world."
World Wise Schools also fosters an appreciation of global issues by facilitating communication among Peace Corps volunteers and students in the form of letters, phone calls and video chats. By providing these educational resources to promote global competence, the program supports the Peace Corps' Third Goal of teaching Americans about the world.
"I've heard from educators, students and group leaders about the impact of these interactions between Peace Corps volunteers and their classrooms," says Hamann. "The world is made a bit smaller through understanding others. It takes getting uncomfortable as well as a willingness to challenge your perspective and be curious."
Today, World Wise Schools continues to provide easy-to-implement programs that educators can incorporate into their classrooms. This partnership provides an engaging and creative way for students to learn about the countries and communities that Peace Corps volunteers serve.
To learn more about the impact of the World Wise Schools program or to access the academic resources offered, visit www.peacecorps.gov/wws.
# # #
About the Peace Corps: The Peace Corps sends Americans with a passion for service abroad on behalf of the United States to work with communities and create lasting change. Volunteers develop sustainable solutions to address challenges in education, health, community economic development, agriculture, the environment and youth development. Through their Peace Corps experience, volunteers gain a unique cultural understanding and a life-long commitment to service that positions them to succeed in today's global economy. Since President John F. Kennedy established the Peace Corps in 1961, more than 235,000 Americans of all ages have served in 141 countries worldwide. For more information, visit peacecorps.gov and follow us on Facebook, Instagram and Twitter.
---