FOR IMMEDIATE RELEASE:
Thursday, August 8, 2013
Volunteers Walk Across Moldova to Honor Peace Corps' 20th Anniversary
WASHINGTON, D.C., August 8, 2013 – To promote volunteerism and commemorate the Peace Corps' 20th anniversary in Moldova, Peace Corps volunteers recently walked across the country, traveling more than 90 miles and visiting 29 communities. Two groups of volunteers participated, with one starting at the northern border and one starting at the southern border before meeting in Chișinău, the capital of Moldova.
The event, called Turul Moldovei in Romanian, or Tour of Moldova, lasted 15 days and culminated with a celebration in Chișinău that included a concert, a non-governmental organization fair, interactive art projects, and salsa dancing.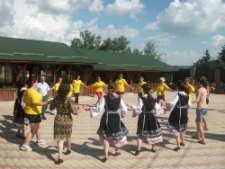 "Turul Moldovei was a magical opportunity for us to get up close and personal with many, many Moldovans – more than we'd ever have the chance to at our respective sites," said Yvette Hill, who was part of a committee of Peace Corps volunteers who helped plan the tour.
Each day, volunteers traveled between six and 13 miles. In the evenings, they stayed in local towns and participated in cultural exchange and educational activities. While many of the towns were familiar with Peace Corps, others were not, and volunteers talked with community members about Peace Corps, volunteerism and the United States.
"At the least we left a favorable impression of American initiative and goodwill by sharing our message in a unique and active way, and by admiring and respecting their beautiful countryside," said Sue Murphy, one of the tour organizers. "Almost everywhere we went, we engaged youth in games and discussion about volunteerism."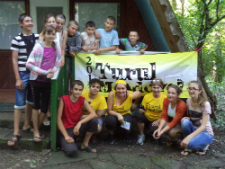 On the southern route, Peace Corps volunteers were joined by eight Moldovans, and the U.S. Ambassador to Moldova, William H. Moser, also participated. Overall, 45 Peace Corps volunteers took part in at least one day of the tour.
To read more about Turul Moldovei, visit the participants' blog of their adventures and experiences at http://pcmoldova.org/turul/.
About Peace Corps/Moldova: More than 1,150 Peace Corps volunteers have served in Moldova since the program was established in 1993. Currently, about 110 volunteers serve in Moldova. Volunteers work in the areas of English education, health, business development and community development. Volunteers are trained and work in Romanian and Russian.
About the Peace Corps: Since President John F. Kennedy established the Peace Corps by executive order on March 1, 1961, more than 210,000 Americans have served in 139 host countries. Today, 8,073 volunteers are working with local communities in 76 host countries in agriculture, community economic development, education, environment, health and youth in development. Peace Corps volunteers must be U.S. citizens and at least 18 years of age. Peace Corps service is a 27-month commitment and the agency's mission is to promote world peace and friendship and a better understanding between Americans and people of other countries. Visit www.peacecorps.gov for more information.
# # #
---