FOR IMMEDIATE RELEASE:
Wednesday, October 19, 2011
Volunteers in Burkina Faso Organize Peace Corps 50th Anniversary Fair
Burkina Faso Prime Minister and First Lady receive Peace Corps plaque
Washington, D.C., Oct. 19, 2011 Fourteen Peace Corps volunteers organized La Grande Foire du Cinquantenaire, a multi-day fair from
Sept. 22 to 24
in Burkina Faso that commemorated Peace Corps 50th anniversary and showcased the work of volunteers and their local partners. More than 5,000 people attended the fair, including Burkina Faso Prime Minister Luc-Adolphe Tiao and First Lady Chantal Compaor. Peace Corps/Burkina Faso Country Director Shannon Meehan presented Prime Minister Tiao and the First Lady with a Peace Corps plaque, pledging that volunteers will plant 50 trees in each host village as part of Peace Corps/Burkina Faso goal to plant one million trees by 2016.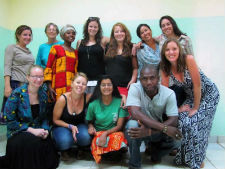 The fair was an excellent display and exposition of all the work the Peace Corps volunteers do with their communities, said Peace Corps Country Director Meehan. Participants learned about the significance of Peace Corps mission to promote world peace and friendship through service and cooperation. It also allowed many volunteers and local partners from all over the country to meet each other and exchange ideas.
Fair participants learned about Peace Corps programs including, food security related projects, HIV/AIDS education and prevention, and Camp GLOW (Girls Leading our World). Camp GLOW is designed to empower young girls by encouraging self confidence, challenging young women to think beyond traditional gender roles, and addressing the unique societal and health issues that women face in their communities.
The fair also included a fashion show with locally-made clothes, traditional dance and music performances, and artisan crafts. There were also demonstrations on how to prepare nutritious meals, malaria prevention techniques, and good hygiene. At the fairs closing ceremony, Floby, a popular musician in Burkina Faso, performed a new song he wrote honoring the Peace Corps.
The event was a success in so many levels, said Katherine Andrecovich of Grosse Pointe Park, Mich. who chaired the committee of 14 Peace Corps volunteers that organized the event. It was amazing to see what dedicated Peace Corps volunteers are capable of doing in their communities and the wonderful relationships they have with the people of Burkina Faso.
To view a video of the 50th anniversary fair in Burkina Faso, click
here
.
About Peace Corps/Burkina Faso:
More than 1,660 Peace Corps volunteers have served in Burkina Faso since the program was established in 1966. Volunteers work in the areas of girls education and empowerment, math and science education, community health development, and small enterprise development. Food security initiatives are integrated into small enterprise activities. Currently, 139 volunteers serve Burkina Faso. Volunteers are trained and work in the following languages: Bissa, French, Fulfuld, Gulmancema, Gurunssi, Hidi, Itanikom, Jula, Kanuri, Kapsiki, Karunfe, Katsena, Lobiri, Lyele, Mandara, Moor, Mungaka, Siamou, and Yemba.
About the Peace Corps:
President John F. Kennedy established the Peace Corps on March 1, 1961, by executive order. Throughout 2011, Peace Corps is commemorating 50 years of promoting peace and friendship around the world. Historically, more than 200,000 Americans have served with the Peace Corps to promote a better understanding between Americans and the people of 139 host countries. Today, 8,655 volunteers are working with local communities in 76 host countries. Peace Corps volunteers must be U.S. citizens and at least 18 years of age. Peace Corps service is a 27-month commitment. Visit www.peacecorps.gov for more information.
# # #
---