FOR IMMEDIATE RELEASE:
Wednesday, March 16, 2011
Vice President Meets with Peace Corps/Moldova Volunteers
Washington, D.C., March 16, 2011 U.S. Vice President Joseph Biden met with 100 Peace Corps/Moldova volunteers and staff at the U.S. Embassy in Chisinau on March 11, 2011 to thank them for their service with Peace Corps. Before the meeting, over 200 Peace Corps volunteers and staff attended a historic event in Opera House Square to watch the Vice President deliver a public open-air speech to thousands of Moldovans.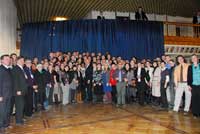 We were honored to participate in the event, and the volunteers who were able to attend will remember meeting with Vice President Biden among the many highlights of their Peace Corps service, said Moldova Country Director Jeffrey Goveia.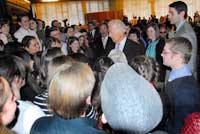 Over 901 Americans have served as Peace Corps volunteers in Moldova since the program was established in 1993. Volunteers in this Eastern European nation work in the areas of education, school and community health education, agri-business and rural business advising, and community and organizational development. Moldova hosts the only agricultural-focused programs in the entire Europe, Mediterranean & Asian Region. Currently, 147 volunteers are serving in Moldova. Approximately 60 Peace Corps trainees are scheduled to arrive in Moldova in June 2011.
About the Peace Corps:
President John F. Kennedy established the Peace Corps on March 1, 1961, by executive order. Throughout 2011, Peace Corps is commemorating 50 years of promoting peace and friendship around the world. Historically, more than 200,000 Americans have served with the Peace Corps to promote a better understanding between Americans and the people of 139 host countries. Today, 8,655 volunteers are working with local communities in 77 host countries. Peace Corps volunteers must be U.S. citizens and at least 18 years of age. Peace Corps service is a 27-month commitment. Visit www.peacecorps.gov for more information.
# # #
---