FOR IMMEDIATE RELEASE:
Wednesday, October 28, 2009
Vice President Biden Meets with Peace Corps/Romania Volunteers and Staff
WASHINGTON, D.C., October 28, 2009 Vice President Joe Biden met with Peace Corps/Romania Volunteers and staff last week as part of his visit to Bucharest, Romania. The following is a photo from the event: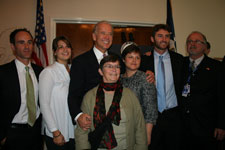 From left to right: Peace Corps/Romania Country Director Ken Goodson; Peace Corps volunteer and Anchorage, Alaska native Tory Shanklin; Vice President Biden; Peace Corps volunteer and Birmingham, Michigan native Susan Safford; Peace Corps/Romania Program and Training Officer Betsy Vegso; Peace Corps volunteer and San Diego, California native Chris Fontanesi; and Peace Corps/Romania Administrative Officer Craig Reeves.
Over 1,157 Peace Corps Volunteers have served in Romania since the program was established in 1991. Volunteers in this Eastern European nation currently work in the areas of education, community development, youth development and environmental conservation. With Romanias entry into the European Union, Peace Corps has focused its efforts on providing English language education support to underserved and rural communities. Currently, 109 volunteers serve in Romania.
As Peace Corps approaches its 50th anniversary, its service legacy continues to promote peace and friendship around the world in 74 host countries. Historically, nearly 200,000 Americans have joined the Peace Corps to promote a better understanding between Americans and the people of the 139 countries in which they have served. Peace Corps Volunteers must be U.S. citizens and at least 18 years of age. Peace Corps service is a 27-month commitment. To learn more about the Peace Corps, please visit our website: www.peacecorps.gov.
# # #
---