FOR IMMEDIATE RELEASE:
Friday, June 11, 2010
Vice President Biden Meets with Peace Corps/Kenya Volunteers
WASHINGTON, D.C., June 11, 2010 Vice President Joe Biden met with 10 Peace Corps/Kenya volunteers at the U.S. Embassy in Nairobi, Kenya, June 10 as part of his three-day visit to Kenya. After a speech at the embassy, the Vice President spent time talking with the volunteers and thanked them for their service.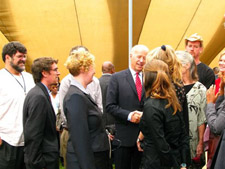 The volunteers serve as grassroots leaders in several Kenyan communities and represent education, information and communication technologies (ICT), public health, and small enterprise development service sectors.
Three of the volunteers who met Vice President Biden serve as teachers and advocates for the deaf community in Kenyas Central and Eastern Provinces. Peace Corps/Kenyas deaf education program began in 1992 in response to the Kenya Ministry of Educations call for special needs student education programs. The project has since expanded but its focus remains on working to help deaf children and youth become productive and independent members of their families and communities.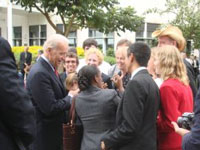 Ranging in age from 23 to 65, the following Peace Corps volunteers, listed with their respective hometowns, attended the event: Emily Baker, Gray, Maine; Carly Brown, Willington, Vt.; Christine Corrigan, Fairfield, Conn; Yabut Lapu Lapu, Los Angeles, Calif.; Allen Neece, Arlington, Va.; Pat Novak, Lincoln, Neb.; David Posey, Norcross, Ga.; Lisa Roner, Centerville, Conn.; Eckhart Spalding, Jacksonville, Ill.; Alyssa Vavrussa, Victoria, Texas.
Over 4,877 Peace Corps volunteers have served in Kenya since the program was established in 1965. In addition to deaf education, volunteers in this East African nation work in the areas of business development, education, health, HIV/AIDS awareness and prevention, information technology, and youth development. Many volunteers working on HIV/AIDS prevention and care receive support from the U.S. Presidents Emergency Plan for AIDS Relief (PEPFAR) program.
As Peace Corps approaches its 50th anniversary, its service legacy continues to promote peace and friendship around the world with 7,671 volunteers serving in 77 host countries. Historically, nearly 200,000 Americans have served with the Peace Corps to promote a better understanding between Americans and the people of 139 host countries. Peace Corps volunteers must be U.S. citizens and at least 18 years of age. Peace Corps service is a 27-month commitment.
# # #
# # #
---