FOR IMMEDIATE RELEASE:
Wednesday, April 1, 2009
Vice President Biden Meets With Peace Corps Volunteers And Staff In Costa Rica
San Jose, Costa Rica, April 1, 2009 - U.S. Vice President Joe Biden, accompanied by his wife, Dr. Jill Biden, met with and thanked Peace Corps Volunteers and staff for their service in Costa Rica.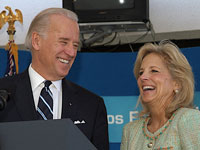 While traveling in Chile and Costa Rica to consult with Latin American leaders regarding the Summit of the Americas, the Bidens met 20 Peace Corps Volunteers and six Peace Corps staff members at a reception held on Monday, March 30, at the U.S. embassy in San Jose, Costa Rica.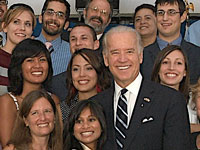 Third-year Volunteers Deborah Winiarski from Battlecreek, MI, and Porter Searcy from Atlanta, GA, were among the Volunteers attending the reception. Said Winiarski, "As Volunteers, we truly appreciated the Vice President taking the time with us and expressing his genuine interest in who we are." Searcy added, "It was a real morale booster for all of us!"
The Peace Corps has a long and rich history of cooperation with the Costa Rican government and people. Over 3,200 Peace Corps Volunteers have served in Costa Rica since the program was established in 1963, 46 years ago. Volunteers in this central American nation are dedicated to their work in the areas of child and youth welfare, community economic development, and rural development. Currently, 140 Volunteers and trainees are serving in Costa Rica.
# # #
# # #
---