FOR IMMEDIATE RELEASE:
Thursday, October 27, 2011
U.S. Institute of Peace Hosts Panel Discussion on Peace Corps Service in Post-Conflict Countries
WASHINGTON, D.C., Oct. 27, 2011 In commemoration of Peace Corps 50th anniversary, the United States Institute of Peace (USIP) hosted a panel discussion on Peace Corps legacy of service and work in post-conflict countries. Peace Corps Director Aaron S. Williams (Dominican Republic, 1967-1970), USIP President Dr. Richard H. Solomon, Congressman Sam Farr (Colombia, 1964-1966), Congressman John Garamendi (Ethiopia, 1966-1968), and four returned Peace Corps volunteers (RPCVs) participated in the event.
For 50 years, Peace Corps volunteers have been working in developing nations, helping communities rebuild local infrastructure and promote peace and progress, said Director Williams. Peace Corps volunteers work shoulder-to-shoulder with communities as they rebuild schools, teach students, strengthen grassroots organizations, and generate new economic activity. The work is demanding, but extremely rewarding.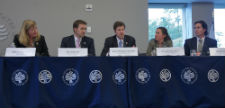 The United States Institute of Peace and the Peace Corps are partners in the important work of preventing conflict and building friends in the world, said Dr. Solomon. I congratulate them on their fiftieth anniversary. There is symmetry to the work both organizations do on the ground in unstable environments abroad. The important social and infrastructure development activity of the Peace Corps complements the conflict resolution, government stabilization, and rule of law work of the Institute. Together we are committed to building a more peaceful world.
The panel discussion was moderated by RPCV Krista Rigalo (Philippines, 1988-1990), and featured:
Alison Milofsky (Slovak Republic, 1996-1998), USIP;


Colin Thomas-Jensen (Ethiopia, 1998-1999 and Mozambique, 1999-2001); United States Department of State;


Mark Hanson (Honduras, 2003-2004), Refugees International;

Sean Kean, USIP.
Peace Corps volunteers currently serve in 75 countries worldwide, including post-conflict countries such as Kenya, Madagascar, Liberia, Rwanda, Sierra Leone, and Uganda. Through Peace Corps Response, a program for RPCVs to serve in short-term, high-impact assignments, volunteers have recently facilitated re-entry into several countries. Two recent examples include:
Liberia:
Peace Corps Response volunteers focused on building capacity of teachers to improve basic instruction in math, science, and literacy.
Madagascar:
Peace Corps Response volunteers recently helped community members develop small business enterprises by assisting entrepreneurs and farming cooperatives in rural Madagascar to access markets and promote their products.
About the U.S. Institute of Peace:
The United States Institute of Peace is the independent, nonpartisan conflict management center created by Congress to prevent and mitigate international conflict without resorting to violence. USIP saves lives, increases the governments ability to deal with conflicts before they escalate, reduces government costs, and enhances national security. USIP is headquartered in Washington, DC. To learn more visit www.usip.org.
About the Peace Corps:
President John F. Kennedy established the Peace Corps on March 1, 1961, by executive order. Throughout 2011, Peace Corps is commemorating 50 years of promoting peace and friendship around the world. Historically, more than 200,000 Americans have served with the Peace Corps to promote a better understanding between Americans and the people of 139 host countries. Today, 8,655 volunteers are working with local communities in 76 host countries. Peace Corps volunteers must be U.S. citizens and at least 18 years of age. Peace Corps service is a 27-month commitment. Visit www.peacecorps.gov for more information.
# # #
---