FOR IMMEDIATE RELEASE:
Wednesday, March 16, 2011
U.S. Department of State Commemorates 50 Years of Peace Corps
Washington, D.C., March 16, 2011 Peace Corps Director Aaron S. Williams and Under Secretary of State for Public Diplomacy and Public Affairs
Judith McHale
hosted a reception in commemoration of the 50th Anniversary of the Peace Corps at the Department of State on March 15, 2011. Director Williams presented Tim Shriver with a Lifetime Achievement Award to commemorate his father, Sargent Shrivers legacy of public service. Shriver, who passed away in January 2011, was the first director of the Peace Corps. On hand at the award presentation were returned Peace Corps volunteers and former Peace Corps directors Joseph H. Blatchford, Mark Gearan, Mark Schneider, Ron Tschetter, and Gaddi Vasquez.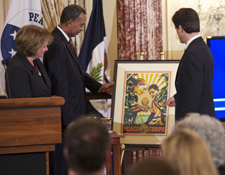 "Its my great honor, and personal privilege, to present this lifetime achievement award, celebrating Sargent Shrivers extraordinary legacy of service. This legacy is represented by the more than 200,000 Americans who have volunteered with Peace Corps, said Director Williams. As we commemorate 50 years of Peace Corps service, we honor Sargent Shriver and his commitment to promoting world peace and friendship.
Also in attendance were 26 Ambassadors from countries that have hosted Peace Corps volunteers, Members of Congress, CEO of the Corporation for National and Community Service Patrick Corvington, CEO of Millennium Challenge Corporation Daniel Yohannes, members of the diplomatic community, and Shriver and Kennedy family members.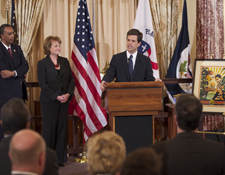 Under Secretary McHale introduced a
video greeting from Secretary of State Hillary Rodham Clinton
, in which Clinton states: For 50 years, Peace Corps volunteers have been ambassadors to the world. They are often the first American in their host community and the first American that many have ever met. They share their generosity, creativity, and skills in ways that changes lives and deepens understanding across cultures.
Under Secretary McHale added in her remarks, Its telling that Peace Corps volunteers dont refer to themselves as former anything. They are simply returned. As is so often the case, Peace Corps volunteers commit to making a difference for others and in turn find themselves forever changed.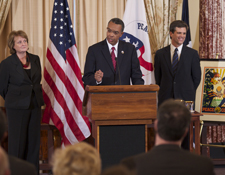 Although times have changed over the last 50 years, the Peace Corps remains true to its mission to promote world peace and friendship by: helping the people of interested countries meet their needs for trained men and women; helping promote a better understanding of Americans on the part of people served; and helping promote a better understanding of other people on the part of Americans.
To view a video and read a transcription from the reception marking the 50th Anniversary of the Peace Corps,
click here
.
To learn more about Peace Corpss 50th Anniversary, visit
www.peacecorps.gov/50
.
About the Peace Corps:
President John F. Kennedy established the Peace Corps on March 1, 1961, by executive order. Throughout 2011, Peace Corps is commemorating 50 years of promoting peace and friendship around the world. Historically, more than 200,000 Americans have served with the Peace Corps to promote a better understanding between Americans and the people of 139 host countries. Today, 8,655 volunteers are working with local communities in 77 host countries. Peace Corps volunteers must be U.S. citizens and at least 18 years of age. Peace Corps service is a 27-month commitment. Visit www.peacecorps.gov for more information.
# # #
---