FOR IMMEDIATE RELEASE:
Wednesday, April 25, 2012
Thousands of Peace Corps Volunteers Participate in Malaria Prevention Activities for World Malaria Day
WASHINGTON, D.C., April 25, 2012 – In commemoration of World Malaria Day, thousands of Peace Corps volunteers are participating in events to help educate communities on malaria prevention and ways to reduce malaria-related deaths.

"In countless communities throughout the world, Peace Corps volunteers are working with our partner organizations to help eradicate malaria and create safer and healthier communities," said Peace Corps Director Aaron S. Williams. "Volunteers teach communities the importance of sleeping under insecticide-treated bed nets, educate expectant mothers about preventive treatments to ensure a healthy birth and provide people with the tools to stay malaria-free."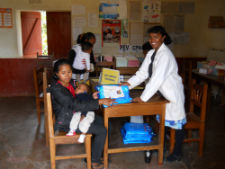 Peace Corps volunteers have partnered with the President's Malaria Initiative and nongovernmental organizations to eradicate the disease. On World Malaria Day in 2011, Peace Corps launched Stomping Out Malaria in Africa, an initiative to mobilize more than 3,000 Peace Corps volunteers across Africa to make a lasting impact in malaria prevention. In just six months, the initiative has launched in more than 15 high-incidence African countries and the program will be extended to other countries later this year. Volunteers help distribute and teach about the importance of sleeping under insecticide-treated bed nets, and educate mothers and entire communities about malaria prevention.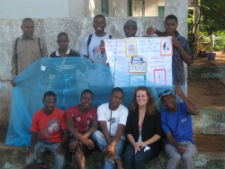 Mali:
From March 3 to March 8, a group of Peace Corps volunteers in Mali biked 40 miles and visited six villages to teach about malaria prevention through the Stomping Out Malaria Campaign. The volunteers led malaria discussion groups and taught local community members how to make neem lotion, which helps prevent malaria.

Madagascar:
To commemorate the 2012 World Malaria Day, Peace Corps volunteers in Madagascar and the U.S. Agency for International Development (USAID) are unveiling a set of murals that use simple images to illustrate the transmission of malaria and explain how to prevent the disease.

Mozambique:
Peace Corps volunteer Alissa Ortman of Westerville, Ohio, has been working in malaria prevention since she arrived in Mozambique in September 2010.

"Working on malaria prevention is important, first and foremost, to save lives," said Ortman. "The week after I arrived at my site here in Northern Mozambique, a little five-year-old girl who lived next to me got malaria and died. It was so tragic hearing and seeing what her family had to go through firsthand and it is something I will never, ever forget. If even one death like hers can be prevented, our efforts will be worth it."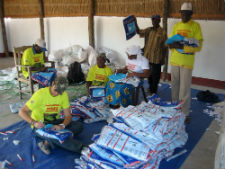 Vanuatu:
In Vanuatu, Peace Corps community health volunteers work throughout the year with local community health workers and the Ministry of Health to distribute bed nets in rural communities. Peace Corps/Vanuatu volunteer Carlie Congdon of Cincinnati, Ohio, is a Peace Corps Masters International student through Tulane University working with the health center on the island of Epi to analyze the prevalence of malaria.

About the Peace Corps: Since President John F. Kennedy established the Peace Corps by executive order on March 1, 1961, more than 200,000 Americans have served in 139 host countries. Today, 9,095 volunteers are working with local communities in 75 host countries. Peace Corps volunteers must be U.S. citizens and at least 18 years of age. Peace Corps service is a 27-month commitment and the agency's mission is to promote world peace and friendship and a better understanding between Americans and people of other countries. Visit www.peacecorps.gov for more information.
# # #
---