FOR IMMEDIATE RELEASE:
Wednesday, August 24, 2011
Thirty-Nine Americans Sworn In as Peace Corps Volunteers in Tanzania
Washington, D.C., Aug. 24, 2011 Thirty-nine Americans were sworn in as Peace Corps volunteers on Wednesday,
Aug. 24, 2011
at the residence of U.S. Ambassador to Tanzania Alfonso E. Lenhardt in Dar es Salaam, Tanzania. The ceremony was conducted by Ambassador Lenhardt and attended by Deputy Permanent Secretary in the Ministry of Education and Vocational Training Selestine Gesimba, and Peace Corps Tanzania Country Director Andrea Wojnar-Diagne.
These trainees represent the best our country has to offer in terms of commitment, intelligence, and energy, said Ambassador Lenhardt. As U.S. Ambassador to Tanzania, I cannot imagine a better way to demonstrate our collective engagement to serve the people of Tanzania.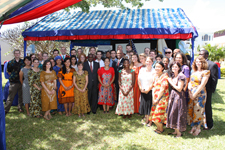 The new volunteers were sworn in the same week as President John F. Kennedys historic
White House Rose Garden ceremony
for the first Americans to depart for Peace Corps service in Tanganyika (now Tanzania) and Ghana 50 years ago on
Aug. 28, 1961
.
The new Peace Corps volunteers in Tanzania will teach biology, chemistry, English, math, physics, and communications technology in secondary schools and teacher training colleges. This is the first group of Peace Corps volunteers in Tanzania to teach English as a primary assignment.
For the last several weeks, the new volunteers have undergone comprehensive cross-cultural, language, and technical training through the Peace Corps. After the swearing-in ceremony, the new volunteers will travel to their permanent site in a local community, where they will complete 27 months of service. There is no deadline to apply with the Peace Corps. The agency is recruiting, placing, and training Americans for service in 76 host countries throughout the year.
About Peace Corps/Tanzania:
More than 2,280 Peace Corps volunteers have served in Tanzania since the program was established in 1961. Volunteers work in the areas of secondary education, environmental preservation, agricultural development, and HIV/AIDS awareness and prevention. Many volunteers working on HIV/AIDS prevention and care receive support from the U.S. Presidents Emergency Plan for AIDS Relief (PEPFAR) program. Currently, 171 volunteers are serving in Tanzania. Volunteers are trained and work in Kiswahili.
About the Peace Corps:
President John F. Kennedy established the Peace Corps on March 1, 1961, by executive order. Throughout 2011, Peace Corps is commemorating 50 years of promoting peace and friendship around the world. Historically, more than 200,000 Americans have served with the Peace Corps to promote a better understanding between Americans and the people of 139 host countries. Today, 8,655 volunteers are working with local communities in 76 host countries. Peace Corps volunteers must be U.S. citizens and at least 18 years of age. Peace Corps service is a 27-month commitment. Visit www.peacecorps.gov for more information.
# # #
---