FOR IMMEDIATE RELEASE:
Friday, January 11, 2013
The Peace Corps to Phase Out Programs in Bulgaria and Romania
Washington, D.C., January 11, 2013 - After more than 20 years of Peace Corps volunteer service in Bulgaria and Romania, the agency will phase out the programs by the end of 2013. By working closely with host-country partners, government institutions and host communities to transfer knowledge and resources, the Peace Corps leaves a strong legacy that will live on in both countries.
Since 1991, the Peace Corps has worked in Bulgaria and Romania to help meet their needs for trained men and women in the areas of education, health, agriculture, environment, youth and development, and community economic development. During that time both countries have experienced high rates of development and achieved membership in the European Union. More than 1,300 volunteers have served in more than 300 communities across Bulgaria, working on projects in English education, community organization and development, youth development, and as Peace Corps Response Volunteers. More than 1,200 volunteers have served across Romania, working on projects in English education, environmental education, youth development, community and economic development, and as Peace Corps Response volunteers.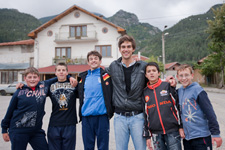 The Peace Corps considers these programs to have been extraordinarily successful in terms of achieving its development and cultural exchange goals. Currently, there are 48 volunteers serving in Bulgaria and 43 serving in Romania. Staff and volunteers in both countries are in the process of transferring materials and training local organizations and partners through workshops and regional resource fairs, thus ensuring the sustainability of the Peace Corps' work in Bulgaria and Romania.
Each program had numerous achievements during more than 20 years of volunteer service.
BULGARIA
Since 1991, Peace Corps volunteers have been working with host-country partners on sustainable projects and to nurture relations between the people of the United States and Bulgaria.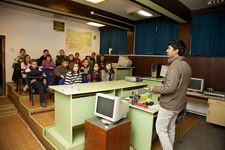 In keeping with Bulgaria's national priorities for development, Peace Corps/Bulgaria has focused on supporting underserved communities, particularly in small towns and villages with predominantly minority populations. Most English education volunteers were assigned to vocational schools, where the majority of students come from low-income families and/or rural areas. Community and organizational development volunteers have worked in small villages in rural areas or to support NGOs that work with Roma and Turkish minority groups. Youth development volunteers worked predominantly with at-risk youth, children with special needs and orphans.
In the spring of 2011, Bulgarian President Georgi Parvanov presented Peace Corps/Bulgaria with the Honorary Sign of the President of the Republic, the highest presidential honor given in Bulgaria, to commemorate the program's 20 years in Bulgaria and honor Peace Corps' contribution to local development and youth education.
Peace Corps/Bulgaria held two events to mark the history of its program. A reception was held on October 1, 2012, at the residence of Ambassador Marcie Ries in Sofia. Approximately 150 former and current Peace Corps staff, volunteers and returned volunteers celebrated 22 years of peace and friendship. Bulgaria held a public celebration on October 2, 2012, with approximately 200 participants, including representatives from the U.S. embassy, current and former Peace Corps staff, all current volunteers, many returned volunteers, and more than 30 local partners and counterparts. A keynote speech was delivered by Nikolay Mladenov, the Bulgarian Minister of Foreign Affairs, and the program included performances by current volunteers and their students.
ROMANIA
For more than two decades volunteers, host-country partners and Peace Corps staff have collaborated to sustain and strengthen the relationship between the Romanian and American people.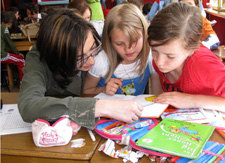 Romania is the home of the very first Camp GLOW (Girls Leading Our World), the Peace Corps' signature leadership development and empowerment training for young women around the world. Growing from the vision of Peace Corps/Romania volunteers and staff in 1995, Camp GLOW has spread to more than 60 countries around the world and truly embodies the Peace Corps mission for youth development.
Peace Corps/Romania has also made exceptional strides in the field of English education. Volunteers have developed a variety of English-teaching tools, and as the program is preparing for completion, this information is being transferred to Romanian partners.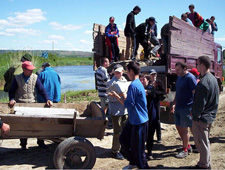 In November 2011, Peace Corps/Romania was presented on behalf of President Traian Basecu with the Cultural Merit Award, the highest civilian honor in Romania, in recognition and appreciation of 20 years of contributions made by Peace Corps volunteers.
To celebrate and commemorate the program, Peace Corps/Romania hosted a gala at the U.S. Ambassador's residence in Bucharest on September 27, 2012, which was attended by more than 300 people. Laid out as an interactive fair, the event featured 15 booths to represent the major regions of Romania. Booths featured information about Peace Corps/Romania projects, Romanian arts and crafts, Romania's diverse cultural groups, and food and drinks that are favorites among both Americans and Romanians.
About Peace Corps/Bulgaria: More than 1,300 Peace Corps volunteers have served in Bulgaria since the program was established in 1991. Currently, 48 volunteers serve in Bulgaria. Volunteers work in the areas of English education, youth development, and community and economic development. Volunteers are trained and work in the Bulgarian language.
About Peace Corps/Romania: Nearly 1,180 Peace Corps volunteers have served in Romania since the program was established in 1991. Currently, 43 volunteers serve in Romania. Volunteers work in the area of English education. Volunteers are trained and work in the Romanian language.
About the Peace Corps: Since President John F. Kennedy established the Peace Corps by executive order on March 1, 1961, more than 210,000 Americans have served in 139 host countries. Today, 8,073 volunteers are working with local communities in 76 host countries in agriculture, community economic development, education, environment, health and youth in development. Peace Corps volunteers must be U.S. citizens and at least 18 years of age. Peace Corps service is a 27-month commitment and the agency's mission is to promote world peace and friendship and a better understanding between Americans and people of other countries. Visit www.peacecorps.gov for more information.
# # #
---