FOR IMMEDIATE RELEASE:
Friday, October 10, 2014
The Peace Corps Honors Volunteers Who Work Toward Gender Equality on International Day of the Girl Child
WASHINGTON, D.C., Oct. 10, 2014 – In honor of the International Day of the Girl Child on Oct.11, the Peace Corps recognizes volunteers who work toward gender equality in the communities they serve and empower women, men and youth to be confident in themselves and think beyond traditional gender roles. Since 2011, the United Nations General Assembly has recognized the International Day of the Girl Child to advance girls' rights and highlight the unique obstacles they face around the world.
Below find an example of how Peace Corps volunteers in Uganda are promoting gender equality in their community. Learn more about the International Day of the Girl Child at www.un.org/girlchild.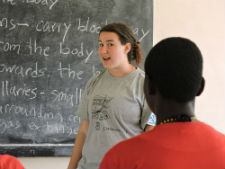 Peace Corps volunteers John Von Bergen of San Diego, California, and Loren Evans of Palmetto, Florida, recently worked with 16 fellow Peace Corps volunteers and their Ugandan communities to host a week-long science camp for secondary school girls to spark their interest in science through fun and educational activities. Called Girl Tech 3.14 – after the famous mathematical constant – the camp included 79 Ugandan girls and eight female Ugandan mentors who joined the volunteers for a week of hands-on science experiments, nature walks and sessions on astronomy.
"In Uganda and communities around the world, science is often framed as a boy's activity and something girls are inherently not good at. This is simply not true," said Evans, a graduate of the University of South Florida who has been living in Uganda since 2012. "Women are responsible for many of the greatest leaps humanity has taken in science, technology, and society. Girls need to know this so they can have role models who look like them and have had similar experiences in life."
The campers were divided into groups named after notable female scientists and activists and introduced to the stories of each female role model. The groups held lively discussions about potential occupations, current events and African women in science and also learned about reproductive health and life skills.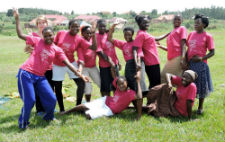 "During the camp, we cultivated an atmosphere where questioning anything and everything was encouraged," said Von Bergen, a graduate of Thunderbird School of Global Management who has been living in Uganda since 2012. "We had a 'sea of questions' wall where campers could anonymously ask anything and the answers were posted for all to see. This led to discussions and lessons on a myriad of topics beyond science—everything from income-generating activities to sociology."
Camp organizers used social media to engage the women of science that the girls studied throughout the week. After writing a poem about Carolyn Porco, the head of NASA's Cassini space probe mission to Saturn, and sharing it with the famous scientist, the girls received immediate thanks from Porco—an exciting moment that underscored the camp's mission: to establish science as an approachable pursuit for girls.
"Hopefully a seed has been planted in the minds of many of these campers so they'll grow up seeing science as an approachable field," Evans said. "At the very least, I hope they left with a new appreciation for how they, as young women, can have the confidence and pride to accomplish anything."
About Peace Corps/Uganda: There are currently 137 volunteers in Uganda working in the areas of health, education and community economic development. During their service in Uganda, volunteers learn to speak the local languages, including: Ateso, Dhopadhola, Luganda, Lugwere, Lumasaaba, Lusoga, Runyakore, Runyole, Runyoro-Rutoro and Uhopadhola. More than 1,305 Peace Corps volunteers have served in Uganda since the program was established in 1964.
About the Peace Corps: As the preeminent international service organization of the United States, the Peace Corps sends Americans abroad to tackle the most pressing needs of people around the world. Peace Corps volunteers work at the grassroots level with local governments, schools, communities, small businesses and entrepreneurs to develop sustainable solutions that address challenges in education, health, economic development, agriculture, environment and youth development. When they return home, volunteers bring their knowledge and experiences – and a global outlook – back to the United States that enriches the lives of those around them. President John F. Kennedy established the Peace Corps in 1961 to foster a better understanding among Americans and people of other countries. Since then, more than 215,000 Americans of all ages have served in 139 countries worldwide. Visit www.peacecorps.gov to learn more.
# # #
---