FOR IMMEDIATE RELEASE:
Monday, May 13, 2013
The Peace Corps Honors Mothers in Service
WASHINGTON, D.C., May 13, 2013 – In commemoration of Mother's Day, the Peace Corps recognizes the thousands of mothers who have made a difference overseas through Peace Corps service. Below, find the story of one mother who was inspired by her daughter to serve.
Peace Corps volunteer Holly Copeland of La Quinta, Calif., is currently serving in Uganda as a health volunteer with her husband, Bill. Holly was inspired to apply to Peace Corps by her daughter, Lesley, who served as a volunteer in The Gambia from 2006 to 2008.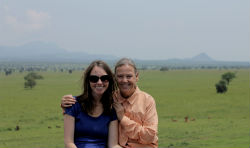 "Lesley inspires me every day, and I oftentimes marvel that I am her mother," said Holly, who started her service in 2011. "Bill and I were able to visit Lesley two times during her Peace Corps service in The Gambia. Visiting Lesley was a very special experience, and I will never forget what it was like to accompany her around her village for the first time and witness firsthand the love and appreciation the villagers had for her."
Seeing and hearing about her daughter's experiences in The Gambia peaked Holly's interest in serving. Though at times she doubted herself, her daughter's confidence reassured her that she would be a strong volunteer.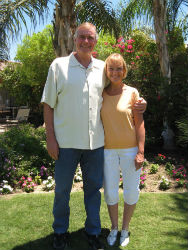 "The most significant inspiration that Lesley provided for me was her belief in me that I could really do this and that I have skills and abilities to offer. Lesley's love, encouragement, and belief in me moved me from 'I hope' to 'I can.'"
While pre-service training taught Holly the technical and language skills she needed in Uganda, she feels motherhood best equipped her to make a difference in her Ugandan community.
"Some of the skills I have gained through motherhood are flexibility, creativity, perseverance and resiliency -- skills I strongly believe have served me well after nearly two years as a volunteer in Uganda," she said. "Another very important skill and one that is frequently overlooked is listening, truly and actively listening. The most successful projects I have seen or initiated are those that originated with the Ugandans themselves."
Holly describes her Peace Corps service as one of the most meaningful experiences of her life, but she says it is motherhood that has allowed her to grow into the person she is today.
"It's such an extraordinary experience to watch your children grow up and develop into their own version of adulthood. I think my favorite moments are those times, regardless of age, when your child experiences happiness and joy, especially if their joy is in response to their own personal efforts. To be an audience to their successful endeavors is amazing."
About Peace Corps/Uganda: More than 1,220 Peace Corps volunteers have served in Uganda since the program was established in 1964. Currently, 143 volunteers serve in Uganda. Volunteers work in the areas of health, education and community economic development. Volunteers are trained and work in the following languages: Ateso, Dhopadhola, Luganda, Lugwere, Lumasaaba, Lusoga, Runyakore, Runyole, Runyoro-Rutoro and Uhopadhola.
About the Peace Corps: Since President John F. Kennedy established the Peace Corps by executive order on March 1, 1961, more than 210,000 Americans have served in 139 host countries. Today, 8,073 volunteers are working with local communities in 76 host countries in agriculture, community economic development, education, environment, health and youth in development. Peace Corps volunteers must be U.S. citizens and at least 18 years of age. Peace Corps service is a 27-month commitment and the agency's mission is to promote world peace and friendship and a better understanding between Americans and people of other countries. Visit www.peacecorps.gov for more information.
# # #
---