The Peace Corps Honors Fathers Who Have Served and Inspired Others
June 17, 2013
WASHINGTON, D.C., June 17, 2013 – In commemoration of Father's Day, the Peace Corps recognizes the thousands of fathers who have made a difference overseas through the Peace Corps or inspired others to pursue Peace Corps service. Below, find the story of one volunteer who was inspired by his father to serve.
Peace Corps volunteer Jack Nelson of Charlotte, N.C., is currently serving as a small business advisor in Cameroon. Nelson was inspired to serve in part by his father, the late Gerald Nelson, who served as a Peace Corps education volunteer in Liberia from 1967-1969. Gerald Nelson passed away in 2008 from leukemia.
"Believe it or not, I distinctly remember how quickly he rebuffed my ideas of doing something like the Peace Corps or Teach For America when we had such conversations in the hospital," Nelson said.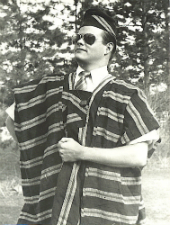 Nelson attended graduate school at the University of Notre Dame and worked for a large multinational corporation as a certified public accountant. But the thought of joining the Peace Corps never went away.
"It was through that time we spent together as a family in the hospital that allowed us to learn about how influential his experience as a Peace Corps volunteer in Liberia was on his life," Nelson said.
As a child, Nelson remembered his father's stories about living in a mud-walled house with a tin roof, but he never recalled hearing him talk about discussing the assassinations of Martin Luther King, Jr. and Robert F. Kennedy with his classes in Liberia, and how emotional of a time it was for him. Three years, one CPA, and countless cubicle hours later, Nelson started thinking about his own story and how he would remember similar world events.
"I was not fully convinced that I would be satisfied looking back on these years without taking the opportunity to do something like the Peace Corps," he said.
Nelson decided to apply for the Peace Corps and began his service in Cameroon in 2012. Since that time, he has worked on a variety of projects with his community, including helping to develop small businesses, creating savings groups, working with youth and helping poor families send their children to school.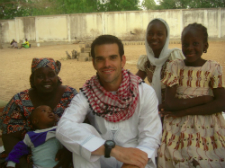 "I have thought on several occasions that although my Dad may not have immediately warmed to the idea of me leaving my job as a CPA for the Peace Corps, he would have likely been studying French soon after I received my invitation in preparation to be the first one in the family to get on a plane to make a visit.
"He would have greatly enjoyed having the opportunity to discuss both the similarities and differences between his service and mine. I can just imagine him teasing me about how spoiled I am to have regular running water and electricity at my house in Cameroon, compared to the few amenities he had in Liberia."
About Peace Corps/Cameroon: Nearly 3,380 Peace Corps volunteers have served in Cameroon since the program was established in 1962. Currently, more than 230 volunteers serve in Cameroon. Volunteers work in the areas of education, environment, agriculture, health, business, and information technology. Volunteers are trained and work in Pidgin English and French.
About the Peace Corps: Since President John F. Kennedy established the Peace Corps by executive order on March 1, 1961, more than 210,000 Americans have served in 139 host countries. Today, 8,073 volunteers are working with local communities in 76 host countries in agriculture, community economic development, education, environment, health and youth in development. Peace Corps volunteers must be U.S. citizens and at least 18 years of age. Peace Corps service is a 27-month commitment and the agency's mission is to promote world peace and friendship and a better understanding between Americans and people of other countries. Visit www.peacecorps.gov for more information.