FOR IMMEDIATE RELEASE:
Tuesday, March 8, 2016
The Peace Corps Celebrates Volunteers who Empower Women and Girls on International Women's Day
WASHINGTON, D.C., March 8, 2016 – In recognition of International Women's Day, the Peace Corps celebrates volunteers working in collaboration with their community members around the world to increase opportunities for women and girls. Ahead of the first anniversary of the President and First Lady's launch of Let Girls Learn last week, the Peace Corps announced the addition of 23 new Let Girls Learn countries, more than doubling the number of participating countries and allowing thousands more Peace Corps volunteers to become agents of change for girls in their communities.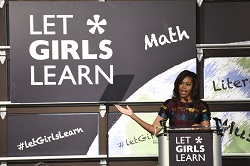 A key approach to making Let Girls Learn a success is through strategic partnerships. Today, First Lady Michelle Obama announced 13 new independent commitments to Let Girls Learn from organizations around the world. In addition to a donation from ALEX AND ANI to the Let Girls Learn Fund, new commitments to the initiative total nearly $500,000. Through the Peace Corps Let Girls Learn Fund these commitments will support community-led Peace Corps volunteer projects that increase girls' access to educational opportunities and help them realize their potential as adults.
Since the launch of Let Girls Learn, with the help of corporate partners and individual donors from all over the U.S., Peace Corps has funded more than 100 Let Girls Learn projects in 22 countries throughout Africa, Asia, Eastern Europe and Central America. In addition, more than 800 Peace Corps volunteers have already received training to become catalysts for community-led change to improve girls' access to education and empowerment.
Throughout the initiative's second year of operation, Peace Corps' Let Girls Learn program will focus on knowledge and skills-building as the major vehicle for behavior change. The agency will hold five regional Let Girls Learn Summits in 2016—three in Africa, one in Asia and one in Latin America. Through these summits and increased training, the agency anticipates more than 1,500 volunteers participating in this cascading training model, reaching over 30,000 girls and local community leaders.
Peace Corps' Let Girls Learn countries include: Albania, Armenia, Benin, Burkina Faso, Cambodia, Cameroon, Costa Rica, Ecuador, Ethiopia, Fiji, The Gambia, Georgia, Ghana, Guinea, Guyana, Jamaica, Lesotho, Liberia, Madagascar, Malawi, Moldova, Mongolia, Mozambique, Panama, Peru, Samoa, Senegal, Sierra Leone, South Africa, Tanzania, Thailand, Togo, Uganda, Vanuatu and Zambia. To support Peace Corps volunteers' Let Girls Learn projects, visit the Peace Corps Let Girls Learn Fund. One hundred percent of donations to the Peace Corps Let Girls Learn Fund directly support volunteer projects and complement the resources that local communities contribute towards these projects.
About the Peace Corps: The Peace Corps sends the best and brightest Americans abroad on behalf of the United States to address the most pressing needs of people around the world. Volunteers work with their community members at the grassroots level to develop sustainable solutions to challenges in education, health, economic development, agriculture, environment and youth development. Through their service, volunteers gain a unique cultural understanding and a life-long commitment to service that positions them to succeed in today's global economy. Since President John F. Kennedy established the Peace Corps in 1961, more than 220,000 Americans of all ages have served in 141 countries worldwide. For more information, visit www.peacecorps.gov and follow us on Facebook and Twitter.
# # #
---