FOR IMMEDIATE RELEASE:
Sunday, February 14, 2016
The Couple That Serves Together Stays Together: Peace Corps Couple Serves for Third Time in Nearly 40 Years of Marriage
WASHINGTON, D.C., February 14, 2016 – Nearly 40 years after getting married, Lois Jean Siska, 60, and Bill Yamartino, 62, are serving together as Peace Corps volunteers for the third time. Just three weeks after saying 'I do' in 1977, the couple departed for Peace Corps service on the Caribbean island of St. Kitts. Siska and Yamartino then served two years in Nepal in the 1980s before departing for their third Peace Corps service in Jamaica last year.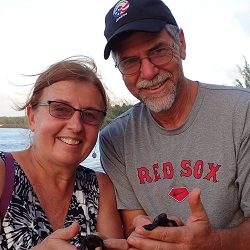 "We adopted our oldest daughter in Nepal and have had three more children," Siska said. "After raising our family and retiring, we decided to once again embark on two years of service with the Peace Corps as ambassadors of the United States, promoting friendship and fostering peace."
Siska and Yamartino, of Wayland, Massachusetts, have never been afraid of a challenge and feel Peace Corps service has helped shape their view of the world. Throughout their services, the couple has always believed that working together has been a strength in their projects.
"Sharing great challenges has strengthened our marriage as much as all the great joys we've shared," Yamartino said. "We always have each other when things get frustrating or difficult. We're convinced that we can do almost anything we set our minds to."
Siska and Yamartino's support system extends far beyond each other. Their children and grandchildren, as well as Yamartino's 87-year-old mother, are very proud of the three-time volunteers. The relationships the couple has forged with their host communities have also been a source of strength.
"I know that my service has an impact on my community, but far greater is the impact living in my community has on me," Siska said. "The amount I learned in the countries in which I served and the relationships I made have enhanced my life greatly."
Although a fourth Peace Corps service is not in the couple's current plans for the future, according to Yamartino, "never say never."
About the Peace Corps: The Peace Corps sends the best and brightest Americans abroad on behalf of the United States to address the most pressing needs of people around the world. Volunteers work with their community members at the grassroots level to develop sustainable solutions to challenges in education, health, economic development, agriculture, environment and youth development. Through their service, volunteers gain a unique cultural understanding and a life-long commitment to service that positions them to succeed in today's global economy. Since President John F. Kennedy established the Peace Corps in 1961, more than 220,000 Americans of all ages have served in 141 countries worldwide. For more information, visit www.peacecorps.gov and follow us on Facebook and Twitter.
# # #
---