FOR IMMEDIATE RELEASE:
Thursday, February 7, 2019
Statement from Peace Corps Director Jody Olsen on the Women's Global Development and Prosperity initiative
WASHINGTON – Peace Corps Director Jody Olsen released the following statement on the Women's Global Development and Prosperity (W-GDP) initiative introduced today during a launch event at the White House with President Donald J. Trump, Advisor to the President Ivanka Trump, leaders from across the U.S. government, and global stakeholders.
"Since its formation in 1961, the Peace Corps has advanced the empowerment of women as a pillar of development, recognizing that expanding opportunities for women can transform their futures and the futures of their families. Having served the Peace Corps in various capacities, I am especially honored to reaffirm this commitment through the Women's Global Development and Prosperity initiative, a whole-of-government approach to advancing workforce development, promoting women's entrepreneurship and access to capital, and removing barriers that prevent women from fully participating in the economy.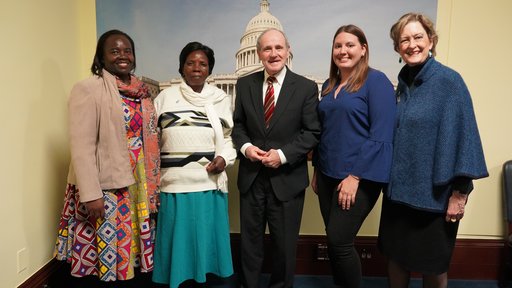 "I want to thank Ella Zande for joining us here in Washington today. As a leader of the Budala Women's Group in Malawi, Ella is a superb counterpart to the volunteers who have lived and worked in her community. Ella oversees sustainable, income-generating projects, such as beekeeping, fruit growing, fish ponds, baking, that improve the quality of life for women and their families. The success of this group and its 65 resilient, innovative women has led to the establishment of a village investment bank, a new nursery school, and a water pump that allows for irrigation and year-round crop production. Thank you, Ella, for sharing your story, for your strong leadership in empowering women, and for your long partnership with the Peace Corps.
"I also want to thank returned Peace Corps volunteer Anna Mansfield of Idaho, who joined Ella at the White House today. Anna worked with Ella for two years, ensuring the women of this community have the tools they need to advance economically and invest in their families in Malawi. Thank you, Anna!
"Living and working at the grassroots level, Peace Corps volunteers are helping address the unique challenges that women face in seeking economic opportunity, reaching hundreds of thousands of women in more than 60 countries each year. To further strengthen and amplify this work through the W-GDP initiative, I am pleased to announce the Peace Corps commits to raising $1 million per year through 2025 from private donors for small grant funding projects that support women in our Community Economic Development, Agriculture, and Education sectors. 
"Secondly, the Peace Corps commits to making the agency's comprehensive Entrepreneurship Training Program available globally for volunteers to use in these sectors to see that women around the world are able to realize their full economic potential.
"Thirdly, the Peace Corps commits to conducting a U.S.-based campus tour featuring conversations on the ability of volunteers to impact women's economic empowerment."
# # #
About the Peace Corps: The Peace Corps sends Americans with a passion for service abroad on behalf of the United States to work with communities and create lasting change. Volunteers develop sustainable solutions to address challenges in education, health, community economic development, agriculture, environment and youth development. Through their Peace Corps experience, volunteers gain a unique cultural understanding and a life-long commitment to service that positions them to succeed in today's global economy. Since President John F. Kennedy established the Peace Corps in 1961, more than 230,000 Americans of all ages have served in 141 countries worldwide.
For more information, visit peacecorps.gov and follow us on Facebook and Twitter.
---