FOR IMMEDIATE RELEASE:
Thursday, April 14, 2011
Sixty-one Peace Corps Volunteers Sworn In at Presidential Palace in Mali
Washington, D.C., April 14, 2011 Sixty-one Americans were sworn in as Peace Corps volunteers in Mali on
April 12, 2011
at the Presidential Palace. The ceremony was hosted by the president of Mali, His Excellency Amadou Toumani Toure, and was attended by the full presidential cabinet. The United States Ambassador to Mali Gillian Milovanovic officiated the Peace Corps oath.
"They are the best that America has to offer the world, said Ambassador Milovanovic. I salute their courage, their enthusiasm, and generosity. I cannot imagine a better way to show the American peoples collective commitment to working hand-in-hand with the people of Mali.
During these last 40 years in Mali, Peace Corps volunteers have worked at the grassroots level to assist communities throughout the country. Volunteers bring their energy, interest in other cultures, and desire to help others to create sustainable solutions for communities that they serve, said Peace Corps/Mali Country Director Michael J. Simsik. I am grateful for the generosity of the President of the Republic of Mali for hosting the ceremony. It speaks to the strong friendship between the Peace Corps and Mali, which continues to strengthen with each passing year.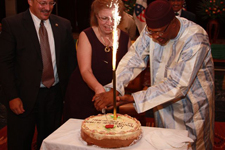 For the past two months, each of the new volunteers has undergone intensive cultural, language, and technical training in Mali. After they are sworn in, each volunteer will leave for his/her permanent Peace Corps site in a local community. Each volunteer will serve for 27 months, including their training. There is no deadline to apply with the Peace Corps. The agency is recruiting, placing, and training Americans for service in 77 host countries throughout the year.
After the ceremony, the Government of Mali hosted a reception that featured a cake commemorating Peace Corps 50th Anniversary.
About Peace Corps/Mali:
More than 2,462 Peace Corps volunteers have served in Mali since the program was established in 1971. Volunteers in this West African nation work in the areas of non-formal education, environmental and agricultural conservation, health and HIV/AIDS awareness, water sanitation and hygiene promotion, and business development.
Business development volunteers provide training and counseling regarding feasibility studies, marketing surveys, inventory control, accounting, and product pricing. Currently, 171 volunteers are serving in Mali. Volunteers are trained and work in the following languages: Bambara, Bomu, Dogon, French, Fulfud, Khassonke, Malinke, Minianka, Senoufou, Sonrai, Soninke, and Tamashek.
About the Peace Corps:
President John F. Kennedy established the Peace Corps on March 1, 1961, by executive order. Throughout 2011, Peace Corps is commemorating 50 years of promoting peace and friendship around the world. Historically, more than 200,000 Americans have served with the Peace Corps to promote a better understanding between Americans and the people of 139 host countries. Today, 8,655 volunteers are working with local communities in 77 host countries. Peace Corps volunteers must be U.S. citizens and at least 18 years of age. Peace Corps service is a 27-month commitment. Visit www.peacecorps.gov for more information.
# # #
---