FOR IMMEDIATE RELEASE:
Wednesday, May 31, 2006
Serving in the Philippines, a Filipino American Peace Corps Volunteer Overcomes Challenges
In celebration of Asian Pacific American Heritage Month, this is a feature on a diverse Asian American volunteer.
WASHINGTON, D.C., May 31, 2006 For Peace Corps volunteer Mary Owen, 28, watching a pig being killed for fiesta, swimming with whale sharks, hiking through the rain forests around her town, riding jeepneys and tricycles, going to a cockfight, taking bucket baths and living without a flushing toilet are all aspects of her life in the Philippinesbut not at all typical of her life back home as a Filipino American.
Growing up in Detroit, Mich., Owen wasnt surrounded by many Filipinos, and although her mom cooked Filipino food, she didnt know the language, Tagalog, which made her assimilation to life in the Philippines more challenging than she had envisioned.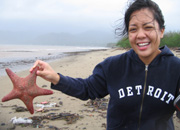 Owen at the beach in the Philippines
"There is definitely a greater expectation for me to learn the language, which has been hard because my mom never taught me Tagalog. However, I think my community was much more willing to bring me into the fold. They instantly trusted me because I think they felt a kinship with me. This support has helped me get things done professionally," Owen said.
After her mothers death four years ago following a battle with cancer, Owens link to the Philippines could have been all but severed, but a Peace Corps placement realigned her future. Although she had gone out of her way to request any region of the world but Asia, her skill set and background made Asia the ideal placement. She was sent to the Philippines, a country she had last visited 20 years ago.
While all volunteers face challenges in assimilating, volunteers who are of the same ethnicity as their host country counterparts often face a very different set of challenges. "Asian volunteers are regarded differently. My supervisor still tells people that they didnt get a real American. I had to stop getting angry over that because I am most certainly American."
"There is still the excitement over a foreigner living in the community, but if I am away from site I can easily slip under the radar. People have told me I walk like an American, but otherwise, I can be undetected until I have to speak. In that sense, I havent had to deal with the constant staring. Im actually having an opposite experience as many other volunteers. Growing up in Detroit, where there are very few Asians, I was always stared at. But here, I blend in," Owen said. However, on the flip side, there was not a lot of sympathy for her when she talked about missing home. "I think they looked at me, and they thought I was one of them."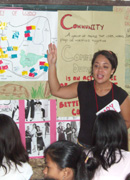 Owen instructing youth at a leadership camp
Regardless of ethnicity, all Peace Corps volunteers serve their local community at the grassroots level and commit 27 months of their life to helping others. "My biggest professional accomplishments have been developing our school library, getting book donations, organizing the books and implementing the Dewey decimal classification. Now, were working to educate students and teachers about using the library. As a teacher trainer, Ive done numerous trainings on writing, journalism and computers. I also was a former cheerleader, and so Ive done some dance routines with the kids."
Additionally, Owen has been working very closely with the Newspaper Club, something that is dear to her heart as a journalist. Journalism is very big in the Philippines and the Department of Education even has national journalism competitions. Her school put out a 12-page paper this past year, and it was their largest. It was also the first time the entire paper had been designed in-house, rather than outsourcing to a printer, and included photos taken by students. Next yeared in-house, rather than outsourcing to a printer, and included photos taken by students. Next year, Owens goal is two papers.
"It is so important to have minority volunteers because part of our job here is to break stereotypes of Americans from movies and television white, tall, blond, thin. My co-teachers and supervisor always jokebut I sense its not really a jokethat I dont look like a real American. When I had a black volunteer visit me at site, they were surprised and intrigued that she, too, was American. We are letting people around the world know that Americans come in all kinds of shapes, colors, and sizes, and thats really important."
Owen admitted that Peace Corps service takes a very strong level of dedication. "Its a wonderful place for people who have a glint of worldly curiosity and awareness and want to expand their views. But people have to know that they arent going to save the world and things wont always go as planned. It takes a special person to be flexible to this kind of living. It was really difficult for me, in the beginning and still now at times, and I tell anyone who is interested that its hard. But after the rough patches, I feel so much stronger and better for the experience."
Owen said she would definitely serve again when she is older and retired, especially if she is married. "Being alone was one of the hardest things for me, but if I had someone to share it with, I think it would be a really rich and different experience for me."
"The Peace Corps has taught me many community development, project design, and management skills that I think could help me at homewhether I am trying to organize something in my neighborhood or with a local organization. I think when I go home I will feel a lot more confident about taking on community projects because of my experience here."
Owen will close her Peace Corps service in June 2007. She plans to return to print journalism, or perhaps pursue something internationally.
Currently, 110 volunteers serve in 27 provinces and nine regions in the Philippines in the areas of business development, education and environment. In 1961, the 171 Peace Corps volunteers who arrived in the Philippines were among the first Peace Corps volunteers to serve anywhere in the world. Since then, more than 8,000 volunteers have worked in the country, located in the Pacific Ocean in Southeast Asia. The volunteers have worked primarily with Filipino teachers and officials to increase their fluency in the English language and to improve their teaching skills. Volunteers have also worked on environmental projects aimed at improving the quality of the water and sanitation. To learn more about the Philippines, please visit the
Where Do Volunteers Go?
section.
The Peace Corps is celebrating a 45-year legacy of service at home and abroad, and a 30-year high for volunteers in the field. Since 1961, more than 182,000 volunteers have helped promote a better understanding between Americans and the people of the 138 countries where volunteers have served. Peace Corps volunteers must be U.S. citizens and at least 18 years of age. Peace Corps service is a 27-month commitment.
# # #
---