FOR IMMEDIATE RELEASE:
Thursday, August 16, 2012
Senator Leahy, Peace Corps Director Promote the Importance of Global Service During UVM Visit
Contributions of Vermont's current and returned volunteers highlighted during visit
WASHINGTON, D.C., August 16, 2012 – Peace Corps Director Aaron S. Williams (returned Peace Corps volunteer, Dominican Republic, 1967-1970) was joined today by Sen. Patrick Leahy (D-Vt.) at an event at the University of Vermont in Burlington to promote the importance of global service and highlight the contributions of Vermont's current and returned Peace Corps volunteers. Leahy is the chairman of the Senate Appropriations Committee's Subcommittee on Department of State and Foreign Operations, which handles the Senate's annual budget bills for foreign operations, including the Peace Corps.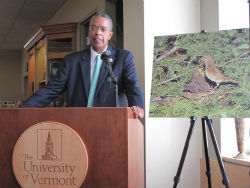 "Vermont has one of the most impressive legacies of Peace Corps service in the country," said Director Williams. "For anyone interested in working with a community at the grassroots level to find sustainable solutions, Peace Corps service can open many doors and help achieve long-term career goals. Vermont Peace Corps volunteers have contributed so much to the Peace Corps' mission of world peace and friendship, and I want to thank Senator Leahy for supporting that mission on Capitol Hill."
"The world has changed dramatically since President Kennedy established the Peace Corps 51 years ago, but the Peace Corps' mission is as relevant today as it was then," said Senator Leahy. "We have a lot to be proud of for the contributions Vermont volunteers have made to the Peace Corps, to the communities where they have served, and to Vermont. I hope Director Williams' visit will inspire more Vermonters, of all ages, to join."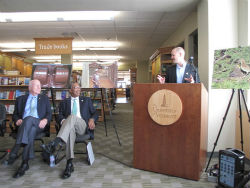 Williams, the fourth director in Peace Corps' history to have served as a volunteer, also acknowledged John William Meyer of Shelburne, a 2010 Middlebury College graduate who recently completed his Peace Corps service as a youth development volunteer in Peru. While in Jangas - Ancash, Meyer implemented a highly successful Camp JUMP (Jovenes Motivados por el Progreso) seminar, which gave Peruvian youth the opportunity to work on a community garden, connect with mentors from the local university, and travel throughout the region to learn more about history and national resources.
Charles Kerchner of Burlington, who served as a Peace Corps Agro Forestry volunteer in the Dominican Republic from 2001-2003, also outlined the business he created to protect endangered rainforest in the Caribbean by manufacturing Kerchner Artisan Chocolate in Vermont. The UVM doctoral student imports organic cacao from the Dominican, which helps local farmers to improve earnings while conserving land in the rainforest canopy to protect migratory songbirds. Kerchner explained that he founded "The Two Worlds—One Bird" alliance specifically to save the threatened Bicknell's Thrush, a small songbird that migrates from Vermont and the northeast to the Dominican and Haiti.
Vermont is nationally ranked on the 2011 Peace Corps Top State list for per-capita volunteer production with 47 currently-serving Peace Corps volunteers. Historically, Vermont has produced 1,422 Peace Corps volunteers who have helped promote a better understanding between Americans and the people of the 139 countries in which they have served.
The University of Vermont ranks No. 5 on the 2012 top Peace Corps volunteer-producing colleges and universities in the medium size category with 42 undergraduate alumni currently serving overseas. Since the agency was founded in 1961, 801 UVM alumni have served in the Peace Corps.
About the Peace Corps: Since President John F. Kennedy established the Peace Corps by executive order on March 1, 1961, more than 200,000 Americans have served in 139 host countries. Today, 9,095 volunteers are working with local communities in 75 host countries. Peace Corps volunteers must be U.S. citizens and at least 18 years of age. Peace Corps service is a 27-month commitment and the agency's mission is to promote world peace and friendship and a better understanding between Americans and people of other countries. Visit www.peacecorps.gov for more information.
# # #
---