FOR IMMEDIATE RELEASE:
Monday, April 28, 2008
Secretary of State Condoleezza Rice Visits Peace Corps Headquarters
Secretary Rice Addresses Worldwide Country Director Conference
WASHINGTON, D.C., April 28, 2008 Peace Corps Director Ron Tschetter welcomed U.S. Secretary of State Condoleezza Rice to Peace Corps Headquarters today.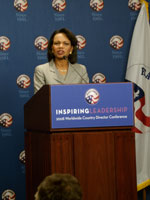 Secretary Rices remarks to 65 Country Directors and headquarters staff officially kicked-off the Peace Corps 2008 Worldwide Country Director Conference. Secretary Rice is the first sitting Secretary of State to visit Peace Corps Headquarters.
The conference, entitled Inspiring Leadership, joins Peace Corps senior leadership from around the world to highlight how Peace Corps encourages leadership in its host countries, Volunteers, and staff. This is the first time since 1979 that all Peace Corps Country Directors are meeting together at Headquarters.
Secretary Rice is a true American success story, and she is a great supporter of the Peace Corps, said Director Tschetter. Her character, vision, and support for volunteerism are an inspiration to us all. Her career of service and dedication represent the excellence that we strive for here at the Peace Corps.
Secretary Rice said today, Each of you is to be commended for your dedication to helping the worlds neediest people, often times in some of the worlds most impoverished communities. Through your work, youre strengthening communities, youre improving lives and youre building bridges between nations. She added, Throughout its history, the Peace Corps has met the challenges of an ever-challenging world by adapting and responding to the issues of the day, but never losing sight of the values that have sustained the Peace Corps throughout its history.
In a February 2008 trip to Africa, Secretary Rice accompanied President George W. Bush in a luncheon with Peace Corps Volunteers in Ghana, and also recently visited Volunteers in Ukraine.
The Peace Corps is celebrating a 47-year legacy of service at home and abroad. Currently there are more than 8,000 Volunteers abroad, a 37-year high for Volunteers in the field. Since 1961, more than 190,000 Volunteers have helped promote a better understanding between Americans and the people of the 139 countries where Volunteers have served. Peace Corps Volunteers must be U.S. citizens and at least 18 years of age. Peace Corps service is a 27-month commitment.
# # #
# # #
---