FOR IMMEDIATE RELEASE:
Tuesday, March 9, 2010
Secretary Clinton Meets Embassy Officials, Peace Corps Volunteers in Guatemala
WASHINGTON, D.C., March 9, 2010 Secretary of State Hillary Rodham Clinton addressed the United States Ambassador to Guatemala, embassy officials, and Peace Corps volunteers and staff in Guatemala City on Friday, March 5th.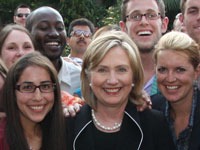 Peace Corps Country Director Martha Keays and Peace Corps staff members Gladys de Barquin, Ruby de Flores, Zaira de Tesahuic and Miguel Ortiz welcomed Secretary Clinton. They were joined by Peace Corps volunteers who work in all Peace Corps/Guatemala service sectors: Anne Ballard of Phoenix, Ariz.; Jesse Festa of Danville, Calif; Kelsey Field of Kirkland, Wash.; Jeremia Garcia of Phoenix, Ariz.; Ashley Kissinger of Sacramento, Calif.; Sidney Knight of Cheverly, Md.; Laura Kutner of Portland, Ore.; Andrew McAfee of Richmond, Va.; Rachel Mowry of Aliso Viejo, Calif.; Carmen Munoz of Los Alamitos, Calif.; Justin Alexander Nixon of Brooklyn, N.Y.; Ellen Ostrow of Baltimore, Md.; Grant Picarillo of Fairfield, Conn.; Nur-Aliyya Shelley of San Rafael, Calif.; and James Staples of Pacific Grove, Calif.
Over 4,561 Peace Corps volunteers have served in Guatemala since the program was established in 1963. Volunteers in this Central American nation work in the areas of rural preventative health, integrated youth development, sustainable agricultural expansion, rural tourism, municipal development, and a school health education. Currently, 209 volunteers are serving in Guatemala.
As Peace Corps approaches its 50th anniversary, its service legacy continues to promote peace and friendship around the world with 7,671 volunteers serving in 76 host countries. Historically, nearly 200,000 Americans have served with the Peace Corps to promote a better understanding between Americans and the people of 139 host countries. Peace Corps Volunteers must be U.S. citizens and at least 18 years of age. Peace Corps service is a 27-month commitment. To learn more about the Peace Corps, please visit our website:
www.peacecorps.gov
.
# # #
---