FOR IMMEDIATE RELEASE:
Tuesday, March 5, 2013
Returned Peace Corps Volunteers Experience Life on Capitol Hill During "Take an RPCV to Work Day"
WASHINGTON, D.C., March 5, 2013 — Four recently returned Peace Corps volunteers (RPCVs) had the opportunity to experience life as a legislator on Capitol Hill by shadowing members of Congress who are also returned volunteers during "Take an RPCV to Work Day," an annual Peace Corps Week initiative. In addition to the four Capitol Hill visitors, returned volunteers across the country visited workplaces to share stories from their international service, promote a better understanding of their host country and demonstrate the valuable skill sets they bring home from work overseas.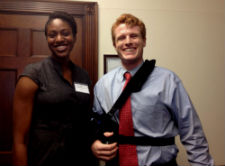 The four returned volunteers who spent time with members of Congress throughout the week shared their experiences:
Shelley Nweke (Suriname, 2009-2012) of Marietta, Ga., had the opportunity to spend time with Congressman Joe Kennedy III (MA-04; Dominican Republic, 2004-2006). "We talked about both attending Stanford, our shared major, the sports we play and our Peace Corps experiences," said Nweke. "I was extremely impressed by Congressman Kennedy. He is smart, articulate and professional but at the same time, kind, welcoming and very down to earth. He and his staff made me feel like more than just a visitor. It was truly a wonderful and rewarding experience."
Congressman Mike Honda (CA-15; El Salvador, 1965-1967) spent the morning with Michael Olsen (Kyrgyzstan, 2002-2004) of Bothell, Wash. "Throughout our day together, Congressman Honda painted a picture of the extensive impact his Peace Corp service has had in shaping his life of public service," said Olsen. "I was struck by how much of the Congressman's day was taken up by listening and learning. This reminded me of Peace Corps service, where it's imperative to listen and learn before taking action."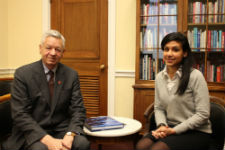 Clara Reyes (El Salvador, 2009-2012) of Bethesda, Md., got a taste of life on the Hill by shadowing Congressman Sam Farr (CA-20; Colombia, 1964-1966). "I learned that Congressman Farr's Peace Corps experience wasn't all that different from my own. We both fell in love with the countries we served and we both want to continue to promote Peace Corps' mission," said Reyes. "My day with Congressman Farr made me realize that policy and government are effective avenues in promoting the issues we are passionate about and that I can design a career where everything leads back to the Peace Corps and El Salvador."
Congressman Tom Petri (WI-06; Somalia, 1966-1967) led Amanda Zeidan (El Salvador, 2010-2012) of Norcross, Ga., through a typical day of life as a legislator. "Congressman Petri said that what he took away from his Peace Corps experience was the ability to understand the 'other side' regardless of his personal position," said Zeidan. "This was illustrated throughout the day as I sat in on his meetings. He engaged all advocacy groups, politicians and local leaders with the same level of respect and understanding. To this day, I believe that is what sets the Peace Corps apart from any other public service experience. You come out with concrete methods of how to engage all parties effectively."

About the Peace Corps: Since President John F. Kennedy established the Peace Corps by executive order on March 1, 1961, more than 210,000 Americans have served in 139 host countries. Today, 8,073 volunteers are working with local communities in 76 host countries in agriculture, community economic development, education, environment, health and youth in development. Peace Corps volunteers must be U.S. citizens and at least 18 years of age. Peace Corps service is a 27-month commitment and the agency's mission is to promote world peace and friendship and a better understanding between Americans and people of other countries. Visit www.peacecorps.gov for more information.
# # #
---