FOR IMMEDIATE RELEASE:
Tuesday, May 23, 2006
Returned Peace Corps Volunteer Wins Pulitzer Prize For Hurricane Katrina Coverage
WASHINGTON, D.C., May 23, 2006 The insight gained by his Peace Corps experience has helped Joshua Norman win the Pulitzer Prize for public service this year as part of a team of reporters that covered Hurricane Katrina and its aftermath in the Gulf Coast.
"Peace Corps can teach just how little you really know about any new place or person, which is an important frame of mind to have in journalism. It is incredibly important in journalism to be able to communicate well and connect with all kinds of people. The far flung places Peace Corps sends you forces you out of your comfort zone if you let it and forces you to be able to really work closely with someone who is incredibly different from you," said Norman, who served in Togo, West Africa, from 2000-2002.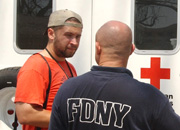 Joshua Norman talks to a New York City firefighter about relief efforts. Firefighters came to Mississippi to return the favor for support following 9/11.
Along with a team of colleagues from the
Sun Herald
in Biloxi, Miss., Norman provided comprehensive reporting of Katrina that consistently kept readers aware of the unfolding situation.
Without his experience in the Peace Corps, Norman said he may not have handled the situation in Mississippi as calmly as he did: "I lived comfortably without electricity and running water during my two years with the Peace Corps, which was incredibly important to be able to do after Hurricane Katrina."
The Peace Corps also prepared Norman to deal with challenging circumstances that developed both in Togo during his volunteer service and in the aftermath of Katrina in the Gulf Coast.
"I had to face many emotionally challenging situations in Togo and in South Mississippi in the weeks after Hurricane Katrina. If in either case I had broken down or felt too sorry for myself following those situations, I would have been wholly unable to do my job. The Peace Corps does not necessarily give you a thick skin, but it certainly prepares you to be able to deal with incredibly sad situations without letting it affect the rest of your life."
While serving in Togo, Norman worked with local farmers to improve beekeeping and honey-retrieval techniques. He also launched village AIDS awareness programs and started a girls\' soccer league.
Norman encountered many new and unique experiences during his service in Togo, but one memory in the days after 9/11 stands out: "Kollo was a predominantly Muslim village in a predominantly Muslim area. Right after I heard the news [about 9/11] on BBC radio, I remember coming out of my house to see my host family members going about their business as usual. They could tell something was wrong, and when they found out what happened, they immediately asked about my parents, who they had met a few months earlier and who worked in New York about a mile or two from Ground Zero. When I said they were fine, they shrugged their shoulders and went about their day. We talked about it at length later, especially when kids showed up in the village wearing \'Viva Osama\' T-shirts." Norman said that after talking to the people in his community, in the end he came to realize that he felt safer with Muslims in Africa than many Americans felt back home.
Norman values his time in the Peace Corps and realizes that it has served him well in his successful journalism career and beyond. "There are many ways Peace Corps helped both my career and my ability to work well after Hurricane Katrina. Not only are most admissions departments and employers surprisingly impressed by Peace Corps service, but service also teaches you to deal with challenging life situations."
Three other returned Peace Corps volunteers have been honored with Pulitzer Prizes in years past. Randolph Ryan, a volunteer in Ecuador from 1964 to 1966, won the Pulitzer Prize for national reporting in 1983 for his
Boston Globe
mom 1964 to 1966, won the Pulitzer Prize for national reporting in 1983 for his
Boston Globe
magazine collaboration on "War & Peace in the Nuclear Age." Joshua Friedman, a volunteer in Costa Rica from 1964-1966, and colleagues won the Pulitzer Prize for international reporting in 1985 for a series on the plight of the hungry in Africa for
Newsday
of New York. In 1998, Michael Maidenberg, a volunteer in India from 1964 to 1966, was awarded the Pulitzer Prize for public service as publisher of the
Grand Forks Herald
. The paper was granted the award for its coverage of a devastating fire, flood and blizzard that destroyed much of Grand Forks, N.D., including the newspaper plant.
To read the award winning articles from the
Sun Herald
, please visit:
www.pulitzer.org/year/2006/public-service
.
The Peace Corps is celebrating a 45-year legacy of service at home and abroad, and a 30-year high for volunteers in the field. Since 1961, more than 182,000 volunteers have helped promote a better understanding between Americans and the people of the 138 countries where volunteers have served. Peace Corps volunteers must be U.S. citizens and at least 18 years of age. Peace Corps service is a 27-month commitment.
# # #
---