FOR IMMEDIATE RELEASE:
Friday, July 20, 2012
Renowned Grammy® Winning Artist & Philanthropist Alicia Keys Selects Winners for the Peace Corps AIDS-Free Generation Photo Contest
WASHINGTON, D.C. July 20, 2012 – In advance of the 2012 International AIDS Conference in Washington, D.C., Peace Corps today announced that renowned Grammy®-winning artist and philanthropist, Alicia Keys, selected the top four thought-provoking images for the Peace Corps AIDS-Free Generation Photo Contest. As co-founder and global ambassador for Keep a Child Alive, Keys is dedicated to improving the lives of children and their families living with AIDS.
"We're delighted to partner with Alicia Keys and Keep a Child Alive on this great effort," said Peace Corps Director Aaron S. Williams (returned Peace Corps volunteer, Dominican Republic, 1967-1970). "Her passion, combined with her artistic vision helped the Peace Corps select photos that express the spirit of Volunteer service."
A fifth "People's Choice" photo was chosen by the number of 'likes' the photo received on social media. Keys made the announcement through Twitter today.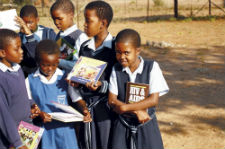 Peace Corps volunteers, returned Peace Corps volunteers and Peace Corps staff submitted over 500 photo entries. Photographs were judged based on creativity and impact in the following categories: education and prevention; treatment, care and support; reducing/eliminating stigma and discrimination; and photographic technical merit.
"Peace Corps volunteers work tirelessly day in and day out to promote HIV/AIDS prevention techniques and improve access to care," said Director Williams. "These photos portray the inspiring work Peace Corps volunteers do to help toward creating an AIDS free generation."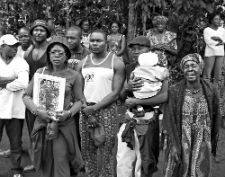 The top three photos from each category as well as the People's Choice Award will be exhibited at the Carnegie Library in Washington, D.C. from July 23 to 26. An additional selection of submissions will also be on display during the 2012 International AIDS Conference in the Global Village at the Walter E. Washington Convention Center in Washington, D.C.