FOR IMMEDIATE RELEASE:
Wednesday, February 2, 2011
President of Macedonia Visits Peace Corps
First Macedonia Peace Corps Response Volunteer Arrives this Month
WASHINGTON, D.C., February 2, 2011 Dr. Gjorge Ivanov, president of the Republic of Macedonia, visited Peace Corps headquarters in Washington, D.C., to meet with Peace Corps Director Aaron S. Williams and discuss the successful partnership and community development initiatives between Peace Corps volunteers and the people of Macedonia.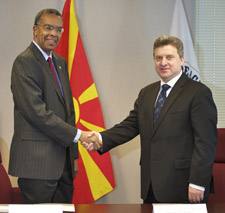 President Ivanov and Director Williams also announced that the Peace Corps will send its first
Peace Corps Response
volunteer (PCRV) to Macedonia this month to work with the Bureau of Education as a TEFL (Teaching English as a Foreign Language) teacher trainer. PCRVs have already completed at least a two-year Peace Corps assignment and have more specialized skills to help meet the needs of their host country. The PCRV, an experienced teacher trainer who previously served in Macedonia from 2005 to 2008, will help more Macedonian teachers create English curriculum and classroom exercises.
Nearly 430 Peace Corps volunteers have served in Macedonia since the program was established in 1996. Volunteers in this Balkan nation work in the areas of English education, and community and municipal development. Currently, 103 volunteers are serving in Macedonia. Volunteers are trained and work in Albanian and Macedonian.
I was pleased to visit our Peace Corps programs in Macedonia in the summer of 2010, including a visit to a Camp GLOW (Girls Leading our World) site. The work we are doing together in education and community development is important to bridging cross-cultural understandings, said Williams.
Camp GLOW (Girls Leading our World) is a weeklong, overnight summer camp organized by Peace Corps volunteers who serve as counselors to an ethnically and culturally diverse group of young Macedonian women, ranging in age from 14 to 18. Established in Macedonia in 2000, Camp GLOW helps young women develop leadership skills, improve self-esteem, increase knowledge of womens health issues and underscore the importance of respecting and caring for the environment. To view a video on Camp GLOW, visit
Peace Corps on You-Tube
.
Additional projects in Macedonia include the National Spelling Bee. Last year, 40 volunteers partnered with 30 Macedonians to organize spelling bees at the regional level. Over 1,000 students were engaged in learning and participated in regional qualifiers. Of those students, 366 advanced to the National Spelling Bee in Skopje, organized in partnership with the U.S Embassys American Corners Education Program.
About the Peace Corps:
President John F. Kennedy established the Peace Corps on March 1, 1961, by executive order. Throughout 2011, Peace Corps is commemorating 50 years of promoting peace and friendship around the world. Historically, more than 200,000 Americans have served with the Peace Corps to promote a better understanding between Americans and the people of 139 host countries. Today, 8,655 volunteers are working with local communities in 77 host countries. Peace Corps volunteers must be U.S. citizens and at least 18 years of age. Peace Corps service is a 27-month commitment.
# # #
---