FOR IMMEDIATE RELEASE:
Thursday, December 14, 2006
President of Benin Visits and Thanks Peace Corps
WASHINGTON, D.C., December 14, 2006 On a visit to the U.S. this week, newly-elected President Dr. Thomas Boni Yayi of the Republic of Benin made a special trip to meet with Peace Corps representatives and said he is looking to expand the partnership between the Peace Corps and his country.
"On behalf of our nation, thank you for what you are doing in our country. Your integrating into Benin is an expression of love for our people," said President Yayi in Benin\'s official language of French.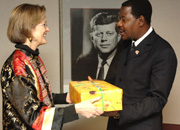 President Yayi presents a gift of appreciation to Deputy Director Olsen.
President Yayi was introduced by Africa Regional Director Henry McKoy and Deputy Director Jody Olsen. Dr. Olsen began her introduction in French and shared a story of how former Peace Corps Director Paul D. Coverdell had been an advocate for Benin, even while serving as a U.S. Senator. She noted that the former Director had been given a hat indigenous to Benin, and displayed it prominently in his Senate office.
President Yayi remarked that he has heard only positive stories of the grass-roots level work of Peace Corps Volunteers. He said he hopes to build on these strong relationships and look for new programs and ways to work with Peace Corps.
"American has a face in Benin that is helping my brothers and sisters," he said about the Peace Corps program.
Over 1,400 Peace Corps Volunteers have served in the Republic of Benin since the program began in 1968. Benin, formerly known as Dahomey, is located in western Africa, and currently hosts 107 Volunteers. Peace Corps Volunteers in Benin are working in four of the governments development priorities: improved quality of life for the rural population, expended educational opportunities for the masses, increased food production, and reforestation. The Volunteers strive to provide the nation with the skills and resources necessary to provide sustainable development in those important areas. To learn more about Benin, please visit the
Where Do Volunteers Go?
section.
The Peace Corps is celebrating a 45-year legacy of service at home and abroad. Since 1961, more than 187,000 Volunteers have helped promote a better understanding between Americans and the people of the 139 countries where Volunteers have served. Peace Corps Volunteers must be U.S. citizens and at least 18 years of age. Peace Corps service is a 27-month commitment.
# # #
---