FOR IMMEDIATE RELEASE:
Friday, March 25, 2011
President Obama Meets with Peace Corps Volunteers, El Salvador
WASHINGTON, D.C., March 25, 2011President Barack Obama and Peace Corps Director Aaron S. Williams met with a group Peace Corps volunteers at the U.S. Ambassador to El Salvadors residence in San Salvador on
March 23, 2011
.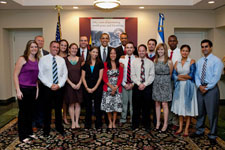 About Peace Corps/El Salvador:
Over 2,132 Peace Corps volunteers have served in El Salvador since the program was established in 1962. Volunteers in this Central American nation work in the areas of community organization and economic development, rural health and sanitation, sustainable agriculture, agro-forestry and environmental education, and youth development. Many volunteers working on HIV/AIDS prevention and care receive support from the U.S. Presidents Emergency Plan for AIDS Relief (PEPFAR) program.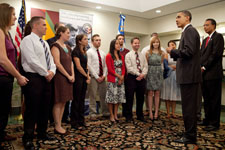 Currently, 151 Americans are serving as Peace Corps volunteers in El Salvador. Volunteers are trained and work in Spanish.
About the Peace Corps:
President John F. Kennedy established the Peace Corps on March 1, 1961, by executive order. Throughout 2011, Peace Corps is commemorating 50 years of promoting peace and friendship around the world. Historically, more than 200,000 Americans have served with the Peace Corps to promote a better understanding between Americans and the people of 139 host countries. Today, 8,655 volunteers are working with local communities in 77 host countries. Peace Corps volunteers must be U.S. citizens and at least 18 years of age. Peace Corps service is a 27-month commitment. Visit www.peacecorps.gov for more information.
# # #
---