FOR IMMEDIATE RELEASE:
Wednesday, April 27, 2011
President Martinelli of Panama Visits Peace Corps Headquarters; Leads Official Delegation Visit to the United States
WASHINGTON, D.C., April 27, 2011 The Peace Corps hosted Ricardo Martinelli, President of Panama, and the official Panamanian delegation for a panel discussion with Peace Corps officials, U.S. Ambassador to Panama Phyllis Powers and returned Peace Corps volunteers (RPCVs) who served in Panama. In addition to President Martinelli, the discussion included Vice President and Minister of Foreign Relations Juan Carlos Varela, Ambassador to the United States Mario Ernesto Jaramillo and Minister of Education Lucy Molinar. During the event, President Martinelli and Peace Corps Chief of Staff Stacy Rhodes delivered remarks and thanked one another for the spirit of cooperation that represents the Peace Corps program. Each RPCV introduced themselves to the panel and shared a story from their experiences in Panama.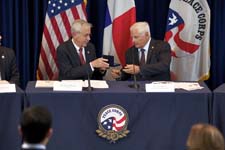 Panama has been an important partner for Peace Corps for almost 50 years, said Peace Corps Chief of Staff Stacy Rhodes (RPCV, Bolivia 68-70). Peace Corps volunteers in Panama partner with communities to teach farmers sustainable agricultural techniques, improve English-teaching methods, promote environmental education in schools, and develop health and sanitation initiatives throughout the country.
The delegations visit coincides with the arrival of 44 new Peace Corps trainees who arrived in Panama City for pre-service training. The trainees are joining the over 200 Americans currently serving. After nine weeks of training, the new volunteers will be assigned to permanent work sites where they will serve for two years as community environmental conservation and sustainable agriculture volunteers. Since 1963, nearly 2,000 Americans have served as Peace Corps volunteers in Panama. Volunteers teach English and work in environmental health, sustainable agriculture systems, and community environmental conservation. Peace Corps volunteers in Panama also work with youth, women, and rural and indigenous organizations to develop income-generating activities and small business skills. Volunteers are trained in the following languages: Embera, Ngabe, Spanish, Wounaan, and Naso.
About the Peace Corps:
President John F. Kennedy established the Peace Corps on March 1, 1961, by executive order. Throughout 2011, Peace Corps is commemorating 50 years of promoting peace and friendship around the world. Historically, more than 200,000 Americans have served with the Peace Corps to promote a better understanding between Americans and the people of 139 host countries. Today, 8,655 volunteers are working with local communities in 77 host countries. Peace Corps volunteers must be U.S. citizens and at least 18 years of age. Peace Corps service is a 27-month commitment. Visit www.peacecorps.gov for more information.
# # #
---