FOR IMMEDIATE RELEASE:
Wednesday, March 27, 2013
President Ernest Bai Koroma Discusses Importance of Peace Corps in Sierra Leone
WASHINGTON, D.C., March 27, 2013 – Peace Corps Acting Director Carrie Hessler-Radelet welcomed President Ernest Bai Koroma of the Republic of Sierra Leone to Peace Corps headquarters in Washington, D.C. today as part of the Loret Miller Ruppe Speaker Series. Since 1962, more than 3,615 Peace Corps volunteers have served in Sierra Leone in the areas of education, environment and health.
"We are very proud of our long history of partnership with Sierra Leone," said Acting Director Hessler-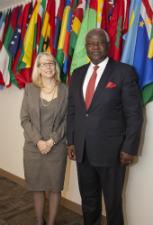 Radelet. "There is a deep and lasting friendship between Peace Corps and the community members of Sierra Leone. Peace Corps volunteers and staff work hand-in-hand with the government of Sierra Leone to promote quality education throughout the country."
After closing in 1994 due to political unrest, the Peace Corps program in Sierra Leone reopened in 2010. Currently more than 90 Peace Corps volunteers are working in math, science and English education in 12 districts across the country. In addition, four Peace Corps Response volunteers are training teachers in higher education institutions.
Before the event, President Koroma was reunited with returned Peace Corps volunteer Sharon Kasper Alvarado. Alvarado served in Sierra Leone from 1964 to 1966 as an education volunteer and got to know President Koroma's family and schoolmates. The two had not seen each other for nearly 50 years.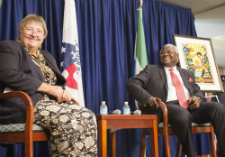 "Peace Corps is an organization for which I have a strong personal affinity," said President Koroma. "The dedication and professionalism of Peace Corps volunteers in our education system made a great impact on me during my formative years. Since 1962, Peace Corps volunteers have been great ambassadors to my country and I know they will continue to play a critical role as we write the next chapter in the history of my country."
President Koroma was first elected in 2007 and is the fourth President of Sierra Leone. The Koroma administration has focused upon rebuilding the country's national infrastructure after the Civil War, fighting corruption and improving the country's health care system. In November 2012, President Koroma was re-elected for another five year term.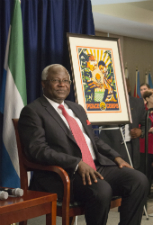 "My country is proud to count Peace Corps among our most prized partners," said President Koroma.
The Peace Corps' Loret Miller Ruppe Speakers Series honors the agency's longest serving director and is a forum for distinguished individuals to speak about issues related to the Peace Corps' mission such as volunteering, public service and international peace and development.
About Peace Corps/Sierra Leone: More than 3,615 Peace Corps volunteers have served in Sierra Leone since the program was established in 1962. Currently, 91 volunteers serve in Sierra Leone. Volunteers work in the area of education. Volunteers are trained and work in the following languages: Krio, Mende, Temne, Mandinka, SuSu, Limba and Kuranko.
About the Peace Corps: Since President John F. Kennedy established the Peace Corps by executive order on March 1, 1961, more than 210,000 Americans have served in 139 host countries. Today, 8,073 volunteers are working with local communities in 76 host countries in agriculture, community economic development, education, environment, health and youth in development. Peace Corps volunteers must be U.S. citizens and at least 18 years of age. Peace Corps service is a 27-month commitment and the agency's mission is to promote world peace and friendship and a better understanding between Americans and people of other countries. Visit www.peacecorps.gov for more information.
# # #
---