FOR IMMEDIATE RELEASE:
Tuesday, June 12, 2012
President Ellen Johnson Sirleaf Discusses Importance of Peace Corps in Liberia
Emphasizes importance of education and role of women in Liberia's efforts to rebuild in the post-conflict era
WASHINGTON, D.C., June 12, 2012 – Peace Corps Director Aaron S. Williams welcomed President Ellen Johnson Sirleaf of Liberia on June 11 to Peace Corps headquarters in Washington, D.C. as part of the Loret Miller Ruppe Speaker Series. More than 3,910 Peace Corps volunteers have served in Liberia since the program was established in 1962. President Sirleaf discussed how the Peace Corps is helping Liberia to enhance its educational system, particularly in the post-conflict era.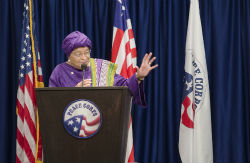 "The work of Peace Corps volunteers in Liberia is a potent reminder that the agency's mission is still in high demand after 51 years," said President Sirleaf. "Peace Corps volunteers have a very active role in the post-conflict reconstruction of Liberia and they could not have returned to my country at a better time. Thank you for your contribution to Liberia's development."

There are currently 45 volunteers serving in Liberia including 30 Peace Corps volunteers and 15 Peace Corps Response volunteers. In the past four years more than 90 Peace Corps Response volunteers have served in Liberia and the next group of Peace Corps Response volunteers will arrive in August. All volunteers work in the education sector helping to rebuild the country's human capital through education by teaching secondary school math, science, and English, as well as bringing more women into the education system.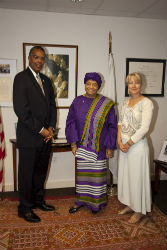 Director Williams opened with remarks on the Peace Corps' successful 50-year history in Liberia, a program that was recently reopened in 2008. Peace Corps Deputy Director Carrie Hessler-Radelet introduced President Sirleaf.

"President Sirleaf is a great champion of democracy and it is because of her leadership that the renewed relationship between Peace Corps and Liberia is flourishing," said Director Williams. "Today, Peace Corps volunteers are working throughout Liberia, building local capacity in math, science and English education."

President Sirleaf is the 24th President of Liberia and the first elected female Head of State in Africa. She is serving her second term as President and in 2011 was one of three Nobel Peace Prize Laureates.

Peace Corps' Loret Miller Ruppe Speakers Series honors the agency's longest serving director and is a forum for distinguished individuals to speak about issues related to the Peace Corps' mission such as volunteering, public service and international peace and development.

About the Peace Corps: Since President John F. Kennedy established the Peace Corps by executive order on March 1, 1961, more than 200,000 Americans have served in 139 host countries. Today, 9,095 volunteers are working with local communities in 75 host countries. Peace Corps volunteers must be U.S. citizens and at least 18 years of age. Peace Corps service is a 27-month commitment and the agency's mission is to promote world peace and friendship and a better understanding between Americans and people of other countries. Visit www.peacecorps.gov for more information.
# # #
---