FOR IMMEDIATE RELEASE:
Thursday, May 19, 2011
President Carter Announces Peace Corps 2011 Lillian Carter Award
Award Honors Legacy of Age 50+ Volunteers
ATLANTA, Ga. May 19, 2011 Former President Jimmy Carter and Peace Corps Deputy Director Carrie Hessler-Radelet presented the 2011 Lillian Carter Award to returned Peace Corps volunteer (RPCV) Diane Gallagher, age 74, of Brookline, Mass. for her commitment to public service. Gallagher served as a Peace Corps volunteer in Cape Verde from 1990 to 1992 at the age of 53. This years ceremony was held at the Carter Center in Atlanta.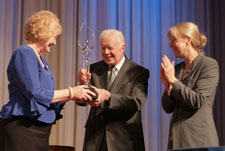 "The Lillian Carter Award is a wonderful celebration of what is best about the Peace Corps—offering up some of America\'s best to the world, and bringing the world home to other Americans. It is always a great thrill for me and my family to participate," said President Carter.
The biennial Lillian Carter Award was established in 1986 in honor of President Carters mother, Lillian, who served as a health volunteer in India in 1966 at age 68. The award recognizes an exceptional Peace Corps volunteer who served at age 50 plus and has continued to advance Peace Corps third goal to promote a better understanding of people from other nations on part of Americans.
Lillian Carter was a tireless advocate for communities around the world, and her legacy continues to live on in the hundreds of volunteers who serve in Peace Corps over the age of 50, said Deputy Director Hessler-Radelet (Samoa, 1981-1983). Whether serving directly after college, or serving in your 60s, Peace Corps is a life-defining opportunity at any age.
After Gallaghers two years of Peace Corps service in Cape Verde, she worked as a Peace Corps recruiter in the Boston Regional Recruitment Office from 1993 to 1998. Miss Lillian was my inspiration to join the Peace Corps and I thought if she can go in at age 68, then I can certainly go in at age 53, said Gallagher. As a returned Peace Corps volunteer, I share stories and my love for my country of service with other Americans to bring my rich experience overseas home to the United States and recruit the next generation of volunteers. Today, Gallagher continues to promote Peace Corps by speaking at local schools, meetings, and events in the Boston area and sharing stories about her service with Peace Corps trainees about to depart for their host country.
Seven percent of Peace Corps volunteers are age 50 and over. To learn more about 50 plus Peace Corps volunteers, visit
www.peacecorps.gov/50plus
.
About the Peace Corps:
President John F. Kennedy established the Peace Corps on March 1, 1961, by executive order. Throughout 2011, Peace Corps is commemorating 50 years of promoting peace and friendship around the world. Historically, more than 200,000 Americans have served with the Peace Corps to promote a better understanding between Americans and the people of 139 host countries. Today, 8,655 volunteers are working with local communities in 77 host countries. Peace Corps volunteers must be U.S. citizens and at least 18 years of age. Peace Corps service is a 27-month commitment. Visit www.peacecorps.gov for more information.
# # #
---