FOR IMMEDIATE RELEASE:
Monday, July 9, 2012
President Bush, Former First Lady Visit Peace Corps Volunteers in Botswana
WASHINGTON, D.C., July 9, 2012 – President George W. Bush and former First Lady Laura Bush met with 15 Peace Corps volunteers and other Peace Corps staff July 5 at the Gabane Community Home-Based Care Center, a community project founded in 1997 to care for people affected by HIV/AIDS.

President Bush and Laura Bush were greeted by a group of local traditional dancers, the village chief, the center's co- founder Mr. Motlhalamme, and Peace Corps Country Director Tim Hartman. After the dance performance, they joined a group of 20 Peace Corps volunteers and staff to learn more about the Center, and the work being done by the volunteers throughout Botswana.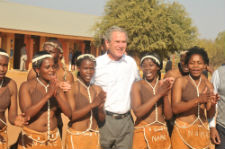 Peace Corps volunteer Tija Danzig of Seattle Wash., works at the Center, and collaborates closely with its staff to strengthen operations and services. She said: "I absolutely love working here; the staff are wonderful and totally dedicated to providing love and education to all the children who come here for services."

After meeting with the volunteers, President Bush and Laura Bush joined the children as they sang several songs in both Setswana and English. President Bush then read a book to the children. They thanked him by singing happy birthday as a cake was brought out and presented him with a birthday card that they had signed.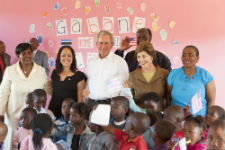 Over the last 15 years, the Gabane Community Home-Based Care has provided care to hundreds of patients. Originally focusing on providing home care to those with HIV/AIDS, the organization has branched out to support a broad range of population groups that have been affected by HIV and AIDS. Its major focus today is the pre-school program for orphans and vulnerable children while empowering people to live positively with HIV and AIDS, with the vision of one day eradicating HIV/AIDS from the community.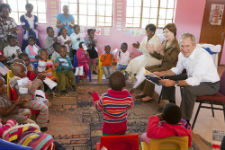 The Pre-School Program currently supports 41 children aged of two to six. The children are not only learning to read, to speak in English, and to do basic math, but are also learning important social skills that they are often deprived of learning in their home environment. Peace Corps volunteer Danzig is assigned to work full-time at the Center.

About Peace Corps/Botswana: More than 2,100 Peace Corps volunteers have served in Botswana since the program was established in 1966. Currently, 120 volunteers serve in Botswana. Volunteers work to address HIV/AIDS in the areas of health, community development and education. Volunteers are trained and work in Setswana and Sekalanga.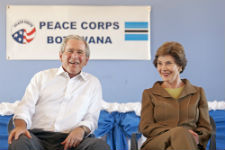 About the Peace Corps: Since President John F. Kennedy established the Peace Corps by executive order on March 1, 1961, more than 200,000 Americans have served in 139 host countries. Today, 9,095 volunteers are working with local communities in 75 host countries. Peace Corps volunteers must be U.S. citizens and at least 18 years of age. Peace Corps service is a 27-month commitment and the agency's mission is to promote world peace and friendship and a better understanding between Americans and people of other countries. Visit www.peacecorps.gov for more information.
# # #
---