FOR IMMEDIATE RELEASE:
Tuesday, June 8, 2010
Peace Corps/South Africa Volunteers and 50 Local Students Meet with Team USA at World Cup Soccer Practice
WASHINGTON, D.C., June 8, 2010 Two Peace Corps/South Africa volunteers helped organize a trip Sunday for 50 local students to a U.S. mens national soccer team practice in Pretoria West. Initiated by the U.S. Embassy and coordinated by Peace Corps, the World Cup outreach effort provided orphans, vulnerable children, and other at-risk youth a personal look at the biggest sporting event on the planet.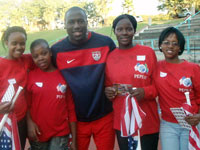 Peace Corps volunteers Joanna Balza of Appleton, Wis., and Haley McDonough of Strongsville, Ohio, traveled with their students, ages 10 to 16, to share in the festivities. Balza and McDonough regularly work with the students at their schools and through HIV/AIDS prevention and education programs. Five South African chaperones also helped with the event.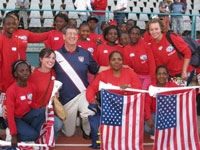 The students and volunteers were welcomed by U.S. Ambassador Donald Gips and U.S. head coach Bob Bradley and met many of the national players including midfielder Ricardo Clark, goalkeeper Marcus Hahnemann, and forwards Jozy Altidore and Edson Buddle.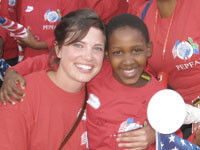 The practice was held in Pretoria West, a one-hour bus trip from the students villages in Mpumalanga Province. It was the first time many of them had traveled outside of their village. Wearing T-shirts with a U.S. Presidents Emergency Plan for AIDS Relief (PEPFAR) logo, the South African students waved thank-you notes as they arrived at Pilditch Stadium.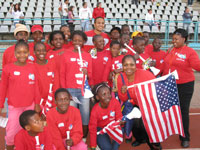 After enjoying lunch, the students received vuvuzelas, also known as stadium horns, to cheer on the team. Four of the older students were interviewed by sports broadcasters covering the open practice. Volunteer Haley McDonough said after the event, I felt all kinds of happiness in that moment. To see these young ladies proudly express themselves to the unfamiliar faces demonstrated real growth in their understanding and respect for others.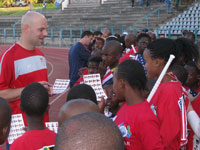 Volunteer Joanna Balza observed, It was really exciting for [the students] to meet the players; but for most of these kids, just getting to go on a bus to Pretoria and be given lunch is a huge deal. When we got back to the villages, despite the strict no vuvuzela blowing on the bus rule, the kids were hanging out the windows blowing as hard as they could on their horns. They were so excited and wanted everyone to come and see them on a bus, with their new T-shirts, and their vuvuzelas.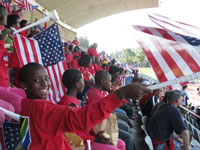 Currently, 123 Peace Corps volunteers are serving in South Africa. To date, 847 volunteers have served in South Africa since the program was established in 1997. Peace Corps/South Africa volunteers work in the areas of education, health and HIV/AIDS awareness. Many volunteers working on HIV/AIDS prevention and care receive support from the PEPFAR program. Launched in 2003 to combat global HIV/AIDS, PEPFAR is the largest commitment by any nation to combat a single disease in history.
As Peace Corps approaches its 50th anniversary, its service legacy continues to promote peace and friendship around the world with 7,671 volunteers serving in 77 host countries. Historically, nearly 200,000 Americans have served with the Peace Corps to promote a better understanding between Americans and the people of 139 host countries. Peace Corps volunteers must be U.S. citizens and at least 18 years of age. Peace Corps service is a 27-month commitment.
# # #
# # #
---