FOR IMMEDIATE RELEASE:
Friday, June 10, 2011
Peace Corps/Senegal Hosts Stomping Out Malaria in Africa Event
WASHINGTON, D.C., June 10, 2011 Ten Peace Corps volunteers in Gambia, Ghana, Mali, Rwanda, Senegal, Tanzania, and Zambia participated in the first Stomping Out Malaria in Africa boot camp at the Peace Corps Training Center in Thies, Senegal from May 30 to June 10. The two week camp focused on educating and sharing best practices on malaria prevention.
During the boot camp, the volunteers visited a home-based-care unit and met with representatives from the Senegalese National Ministry of Health, the U.S. Agency for International Development, IntraHealth, ChildFund, and Roll Back Malaria. Five Peace Corps Senegal volunteers also shared best practices from their work combating malaria through bed-net distribution and community education.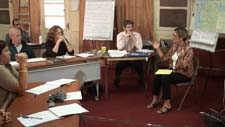 Malaria is an infectious disease transmitted to humans through an infected mosquito. The World Health Organization estimates that in 2008 there were 247 million cases of malaria and nearly one million deaths, mostly among children living in Africa.
Peace Corps volunteers across Senegal are leading efforts to prevent malaria, by providing malaria prevention education and leading a campaign to universally distribute insecticide treated mosquito bed nets. Volunteers work in malaria prevention projects in 25 sub-Saharan African countries.
In April, the Peace Corps announced a
partnership with the Presidents Malaria Initiative (PMI)
that will expand malaria prevention activities throughout Africa.
Peace Corps Health Sector:
Peace Corps health volunteers help local communities meet basic public health needs through education and awareness. Heath volunteers provide access to safe drinking water, distribute bed nets for malaria prevention, educate communities about HIV/AIDS, teach sanitation measures and more. Even though Peace Corps volunteers are not medical care providers, they provide the skills and training to help keep communities healthy and safe. Today, 22 percent of Peace Corps volunteers work in the health/HIV sector.
About Peace Corps Senegal:
More than 3,075 Peace Corps volunteers have served in Senegal since the program was established in 1963. Volunteers in this West African nation work in the areas of small enterprise development, rural resource management, agricultural development and agro-forestry, and health and HIV/AIDS awareness. Volunteers in all regions of Senegal are leading efforts to prevent malaria, the leading cause of child mortality in Senegal, by providing malaria prevention education and supplementing the Senegalese governments nationwide distribution of insecticide treated mosquito bed nets to children under 5. Currently, 205 volunteers are serving in Senegal.
About the Peace Corps:
President John F. Kennedy established the Peace Corps on March 1, 1961, by executive order. Throughout 2011, Peace Corps is commemorating 50 years of promoting peace and friendship around the world. Historically, more than 200,000 Americans have served with the Peace Corps to promote a better understanding between Americans and the people of 139 host countries. Today, 8,655 volunteers are working with local communities in 77 host countries. Peace Corps volunteers must be U.S. citizens and at least 18 years of age. Peace Corps service is a 27-month commitment. Visit www.peacecorps.gov for more information.
# # #
---