FOR IMMEDIATE RELEASE:
Monday, April 19, 2010
Peace Corps/Namibia Celebrates 20 Year Anniversary
Namibia Prime Minister Thanks Volunteers at Swearing-in Ceremony
WASHINGTON, D.C., April 19, 2010 Peace Corps/Namibia celebrated its 20th anniversary of service at a swearing-in ceremony for Peace Corps volunteers held on April 16th at the National Institute for Educational Development in Okahandja, Namibia.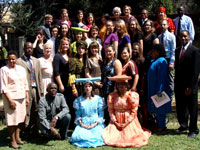 Namibian Prime Minister Nahas Angula delivered remarks and individually welcomed the new Peace Corps volunteers to the Sub-Saharan African nation. U.S. Ambassador to Namibia Gail Dennise Mathieu officially swore in the group of 27 volunteers and Peace Corps/Namibia Country Director Gilbert Collins thanked Prime Minister Angula for attending the ceremony.
Prime Minister Angula has a strong and historic connection to Peace Corps/Namibia. A few days after Namibia gained independence in March 1990, Angula who was then Namibias Minister of Education, Culture and Sport wrote to former Peace Corps Director Paul D. Coverdell requesting Peace Corps volunteers. By September 1990, 14 Peace Corps volunteers were teaching in local Namibian communities to help in the transition from Afrikaans to English, the nations official language.
The Government of Namibia has welcomed hundreds of Peace Corps Volunteers that have served throughout the country, living, teaching and working in local communities, and making lasting contributions to the development of Namibia, said Collins at the ceremony. Special thanks and gratitude go to the Prime Minister, who started it all with a simple invitation twenty years ago.
Since 1990, more than 1,150 Americans have served as Peace Corps volunteers in Namibia. Volunteers work in the areas of education, youth and community development, health and HIV/AIDS awareness, and information technology. Many volunteers working on HIV/AIDS prevention and care receive support from the U.S. Presidents Emergency Plan for AIDS Relief (PEPFAR) program. Currently, 98 volunteers are serving in Namibia.
The following new volunteers were sworn in at the ceremony: Maureen Adams, Kristi Allen, Enrique Aragon, Kristen Bunner, Emily Claymore, Patrick Culver, Katie Cwenar, Lucy Danford, Carla Dominguez, Karley Drumm, Emilie Ellis, Diana Gardner, Lindsay Harris, Katherine Hildebrandt, Kijafa Idalliah, Lindsay Jenkins, Spencer Mandzik, Caroline Moore, Lindsay Newell, Michael Okonkwo, Shawn Peterson, Sarah Roush, Christine Stirparo, Trevor Sudano, Carolyn Witaske, and Lauren Zickl.
As Peace Corps approaches its 50th anniversary, its service legacy continues to promote peace and friendship around the world with 7,671 volunteers serving in 76 host countries. Historically, nearly 200,000 Americans have served with the Peace Corps to promote a better understanding between Americans and the people of 139 host countries. Peace Corps volunteers must be U.S. citizens and at least 18 years of age. Peace Corps service is a 27-month commitment.
# # #
# # #
---