FOR IMMEDIATE RELEASE:
Tuesday, January 4, 2011
Peace Corps/Mongolia Promotes National Alcohol Awareness Campaign
WASHINGTON, D.C., January 4, 2011 Peace Corps/Mongolia volunteers and Mongolian governmental agencies have joined together to raise awareness about alcohol abuse throughout the country.
Volunteers Kyle Olsen of Virginia City, Nev. and Kiley Larson of Colorado Springs, Colo., and other volunteers worked with Mongolian television studio, NTV, Mongolian Journalist of the Year Mr. G. Zoljargal, performing artist Quiza, and the Mongolian University of Culture and Arts to create a video to raise awareness about alcohol abuse.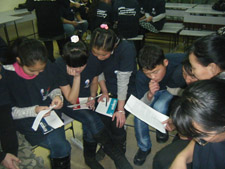 Olsen and Larson also designed a 100-page Alcohol Life Skills Manual with 40-minute lessons to be used in Mongolian schools by teachers and social workers. The curriculum covers peer pressure, alcohol and the body, self-esteem, decision-making and gender issues, and includes open discussion.
In October 2010, Peace Corps volunteer Sarah H. Haught of Chicago, Ill., led fellow volunteers in Mongolia in working with their local governments, childrens centers, health departments, schools, police stations, and nongovernmental organizations to initiate the countrys first Alcohol Awareness Week. Workshops were led by Mongolian peer trainers and Mongolian staff who had been trained by volunteers and staff.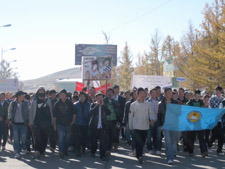 The event reached an estimated 20,000 people and involved essay, poster and drama competitions about the effects of alcohol in dozens of schools in villages, provincial centers, and the nations capital. Doctors and police officers gave presentations in secondary schools about the dangers of drinking, and volunteers and counterparts used this topic as a focal point for English classes and clubs. Local TV stations across the country also aired the video about teen alcohol abuse.
Alcohol Awareness Week is expected to be an annual occurrence. Peace Corps volunteers and their local counterparts also hope to create support groups for the families of alcoholics and to launch campaigns against drunk driving and Fetal Alcohol Syndrome.
More than 869 Peace Corps volunteers have served in Mongolia since the program was established in 1991. Volunteers in this landlocked, Asian nation work in the areas of English education, community youth development, health, and economic development. More than half the volunteers in this country live in traditional, dome-shaped tents called gers. Currently, 131 volunteers are serving in Mongolia. Volunteers are trained in Mongolian and Kazakh.
About the Peace Corps:
President John F. Kennedy established the Peace Corps on March 1, 1961, by executive order. Peace Corps will commemorate 50 years of promoting peace and friendship around the world through 2011. Historically, more than 200,000 Americans have served with the Peace Corps to promote a better understanding between Americans and the people of 139 host countries. Today, 8,655 volunteers are working with local communities in 77 host countries. Peace Corps volunteers must be U.S. citizens and at least 18 years of age. Peace Corps service is a 27-month commitment.
# # #
---