FOR IMMEDIATE RELEASE:
Friday, January 7, 2011
Peace Corps/Macedonia Volunteers Tap EPA to Test Local Water Supply
Peace Corps, EPA Signed MOU in December
WASHINGTON, D.C., Jan. 7, 2010 Peace Corps volunteer Katie Kalinowski of Evergreen, Colo., recently teamed up with the Environmental Protection Agency (EPA) to test the quality of the local water supply in her village in Macedonia.
In December 2010, Peace Corps and the EPA announced a Memorandum of Understanding (MOU) to facilitate stronger institutional ties between the two organizations. Under the MOU, the agencies will explore opportunities to collaborate on such issues as distributing clean cook stoves and promoting environmental education, community monitoring, solid waste, waste water and safe-water management, and climate change.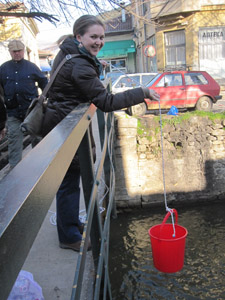 Last year, Peace Corps/Macedonia was contacted by one of its former volunteers, who currently works for the EPA and offered to send water-testing kits to use in conjunction with World Water Monitoring Day activities, which ended on Dec. 31.
Peace Corps volunteers throughout the Eastern European country responded to the offer and have been implementing the water-testing kits in their local villages. Testing the quality is important for water safety and health, while it inspires youth and local community members to protect their natural resources.
"I found it especially exciting that in almost every case, the kids shared the results with their peers and sometimes even with the local leadership like the mayor, says Kalinowski, a University of Nebraska-Lincoln graduate who also holds a masters degree in economics from North Carolina State University.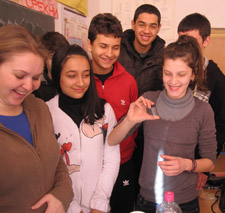 Kalinowski notes that Peace Corps/Macedonia volunteers are working to exchange videos and photos with Colorado and Costa Rica schools with the help of the EPA. Kalinowski says one school in Macedonia has even made a video in Spanish to share with Spanish-speaking students in both locations.
For more information on the Peace Corps-EPA MOU, click
here
.
About the Peace Corps:
President John F. Kennedy established the Peace Corps on March 1, 1961 by executive order. Throughout 2011, the Peace Corps will commemorate 50 years of promoting peace and friendship around the world. Historically, more than 200,000 Americans have served with the Peace Corps to promote a better understanding between Americans and the people of 139 host countries. Today, 8,655 volunteers are working with local communities in 77 host countries. Peace Corps volunteers must be U.S. citizens and at least 18 years of age. Peace Corps service is a 27-month commitment
.
# # #
---