FOR IMMEDIATE RELEASE:
Friday, June 17, 2011
Peace Corps/Guatemala Volunteer Teaches Young Girls to Make Tire Gardens
Project Promotes Environmental Awareness, Produces Food for Local Families
WASHINGTON, D.C., June 17, 2011 Peace Corps volunteer Keisha Herbert of Cleveland, Ohio, recently trained more than 30 girls aged six to 14 in Guatemala to create vegetable gardens out of recycled car and truck tires, and held a cooking and nutrition class with the food they generated from the gardens. The project not only helped raise environmental awareness, but it also improved local families access to food.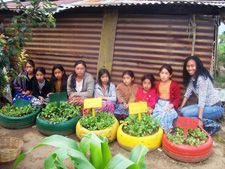 The experience marked an absolute best time in my service, said Herbert a graduate of Howard University who arrived in Guatemala in April 2010 as a youth development volunteer. The proactive attitudes and energy of the girls made the creation of a tire garden enjoyable and easy to accomplish. Despite the unexpected moments, it was a huge success, and these girls definitely have green thumbs.
Herbert helped the girls cut out the top of the tires, fill them with soil, plant seeds, and paint the tires and wooden display posts. Three weeks later, the radishes they planted were fully grown. Now, the young women are planting onions, tomatoes, carrots and celery seeds in the tire gardens. Herbert meets with the girls weekly for English classes, cultural exchanges, dance lessons and other topics. To see more photos, click
here
.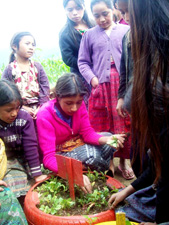 Peace Corps volunteers worldwide helped their local communities implement sustainable projects to address some of the worlds most pressing environmental challenges. Today, there are more than 8,600 Peace Corps volunteers who work in 77 countries around the world; 13 percent work on environmental and four percent work on agricultural projects. Many additional Peace Corps volunteers participate in environment-related secondary service projects and help engage local communities in ways to protect the environment and conserve natural resources.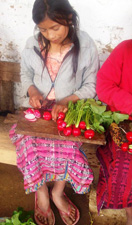 About Peace Corps/Guatemala:
More than 4,690 Peace Corps volunteers have served in Guatemala since the program was established in 1963. Volunteers in this Central American nation work in the areas of rural health prevention, integrated youth development, sustainable agriculture and marketing, sustainable rural tourism, and municipal development. Currently, 227 volunteers are serving in Guatemala. Volunteers are trained and work in the following languages: Awakateco, Ixil, Jacalteco, Kakchiquel, Mam,Pcomchi, Popti, Poqomam, Qanjobal, Qeqch, Quich, Spanish, and Tzutuhil.
About the Peace Corps:
President John F. Kennedy established the Peace Corps on March 1, 1961, by executive order. Throughout 2011, Peace Corps is commemorating 50 years of promoting peace and friendship around the world. Historically, more than 200,000 Americans have served with the Peace Corps to promote a better understanding between Americans and the people of 139 host countries. Today, 8,655 volunteers are working with local communities in 77 host countries. Peace Corps volunteers must be U.S. citizens and at least 18 years of age. Peace Corps service is a 27-month commitment. Visit www.peacecorps.gov for more information.
# # #
---