FOR IMMEDIATE RELEASE:
Tuesday, March 29, 2011
Peace Corps/Costa Rica Volunteers Commemorate International Womens Day with Photo Exhibit and Forum with Students
Washington, D.C., March 29, 2011 In honor of the 100th Anniversary of International Womens Day on March 8th, Peace Corps volunteers in Costa Rica organized a community photo exhibit and held an interactive forum with students to celebrate the contributions of Costa Rican women, spur dialogue about gender roles, and encourage self-esteem in young girls. Throughout the year, Peace Corps volunteers in Costa Rica also help run after-school clubs for girls, promote women-owned small businesses, and organize education and public health programs.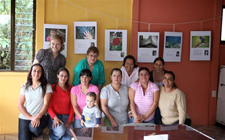 Community Photo Exhibit
Peace Corps volunteer Rebecca Stumpf of Longmont, Colo. organized a month-long exhibit at her local bakery titled, What does being a woman mean to you? The exhibit featured original photographs and accompanying explanations from nine women.
For the community, the exhibit was significant because it was a time to come together and share an important day with friends while bringing awareness to important issues, said Stumpf.
Interactive Forum with Students
Peace Corps volunteers Meredith Burgess of Brandon, Miss. and Hannah Evans of Twin Falls, Idaho showed a film to a class of seventh and tenth grade English students that spurred a discussion on the role of women and the definition of beauty.
I think its important for us to reflect upon the struggles that women went through to give us the opportunities we have now, said Burgess. We also wanted the students to challenge the standard definition of what makes a woman beautiful. The idea that beauty cannot be classified by a dress size, eye color, or nationality was a new concept to many of them.
About Peace Corps/Costa Rica:
More than 3,310 Peace Corps volunteers have served in Costa Rica since the program was established in 1963. Volunteers in this Central American nation work in the areas of child, family, and youth development, community economic development, rural community development, and teaching English as a foreign language (TEFL). Currently, 105 volunteers and trainees are serving in Costa Rica. Volunteers are trained and work in Spanish.
About the Peace Corps:
President John F. Kennedy established the Peace Corps on March 1, 1961, by executive order. Throughout 2011, Peace Corps is commemorating 50 years of promoting peace and friendship around the world. Historically, more than 200,000 Americans have served with the Peace Corps to promote a better understanding between Americans and the people of 139 host countries. Today, 8,655 volunteers are working with local communities in 77 host countries. Peace Corps volunteers must be U.S. citizens and at least 18 years of age. Peace Corps service is a 27-month commitment. Visit www.peacecorps.gov for more information.
# # #
---