FOR IMMEDIATE RELEASE:
Monday, February 24, 2014
Peace Corps Week Celebrates Volunteers' Contributions at Home and Abroad for Peace Corps' 53rd Anniversary
WASHINGTON, D.C., February 24, 2014 – Ahead of the Peace Corps' 53rd anniversary on March 1, the agency today kicks off Peace Corps Week to celebrate the contributions of the Peace Corps community both at home and abroad and highlight the importance of service in the 21st century. Through Saturday, March 1, Peace Corps Acting Director Carrie Hessler-Radelet and current and returned Peace Corps volunteers will participate in recruitment events, service projects and networking activities taking place across the country.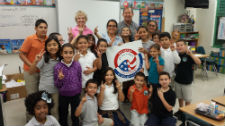 "Peace Corps Week is about sharing the volunteer experience and the incredible cultural exchange that results from Peace Corps service," Hessler-Radelet said. "I encourage both current and returned volunteers to participate in Peace Corps Week to share the world with their local communities and bring Peace Corps service to life."
Hessler-Radelet will participate in Peace Corps Week events starting Tuesday, Feb. 25 at the University of Miami, where she will speak with students and community members about the inspiring work of Peace Corps volunteers today. She will be joined by University President Donna Shalala, who has been an active supporter of the Peace Corps since completing her service in Iran 50 years ago. On Thursday, Feb. 27, the Acting Director will deliver remarks at the National Press Club in Washington, D.C. on the Peace Corps in the 21st century, and later that day, she will talk with students at the University of South Florida via live video conference.
New this year, Peace Corps' Office of Third Goal and Returned Volunteer Services invited current and returned volunteers to get involved in Peace Corps Week by participating in a Video Challenge and a Classroom Challenge designed to support Peace Corps' Third Goal of sharing other cultures with Americans. In the lead up to Peace Corps Week, current and returned volunteers have organized more than 525 classroom events to share the Peace Corps experience, engaging nearly 35,000 students across 49 states. Videos showcasing some of the most remote locations in the world were also submitted to Peace Corps' #PCWeek2014 YouTube playlist, offering a cultural window into life abroad.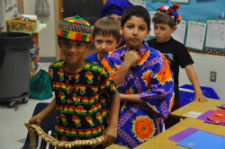 Peace Corps volunteers travel to the farthest corners of the world where they work toward sustainable change while gaining hands-on experience and developing the skills employers are looking for now more than ever. Volunteers who serve with the Peace Corps return home with a global perspective as well as cross-cultural, leadership, community development and language skills. They give back to their communities here at home and enrich the lives of those around them, helping to strengthen international ties and increase our country's global competitiveness.
The Peace Corps has eight regional recruitment offices across the United States that work closely with prospective volunteers to ensure that all Americans who want to serve have the opportunity to do so. Find the recruitment office near you by visiting the Peace Corps website here.
Visit the Peace Corps events webpage for a full list of Peace Corps Week activities.
About the Peace Corps: As the preeminent international service organization of the United States, the Peace Corps sends Americans abroad to tackle the most pressing needs of people around the world. Peace Corps volunteers work at the grassroots level with local governments, schools, communities, small businesses and entrepreneurs to develop sustainable solutions that address challenges in education, health, economic development, agriculture, environment and youth development. When they return home, volunteers bring their knowledge and experiences – and a global outlook – back to the United States that enriches the lives of those around them. President John F. Kennedy established the Peace Corps in 1961 to foster a better understanding among Americans and people of other countries. Since then, more than 215,000 Americans of all ages have served in 139 countries worldwide. Visit www.peacecorps.gov to learn more.
# # #
---