FOR IMMEDIATE RELEASE:
Monday, February 25, 2013
Peace Corps Week Celebrates 52 Years of Volunteers Making a Difference Through Service Overseas
WASHINGTON, D.C., February 25, 2013 — The Peace Corps community is celebrating Peace Corps Week from Sunday, February 24, through Saturday, March 2, to commemorate the 52nd anniversary of Peace Corps' creation by President Kennedy in 1961. Throughout the week, Peace Corps' Office of Third Goal and Returned Volunteer Services is working with returned and current volunteers to raise awareness among employers, community leaders, friends and family about the Peace Corps experience through networking opportunities, service projects, recruitment events and cultural exchanges.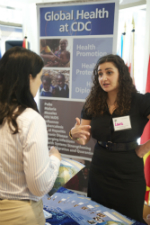 "Peace Corps volunteers make a difference all over the world, in the communities where they serve and when they return to the United States," said Peace Corps Acting Director Carrie Hessler-Radelet, who served as a volunteer in Western Samoa from 1981 to1983. "I encourage everyone in the Peace Corps community to share their experiences and to celebrate service during Peace Corps Week through networking opportunities, service projects, recruitment events and cultural exchanges."
A highlight of Peace Corps Week for recently returned volunteers is the opportunity to network with potential employers so they can apply the job skills they acquired during service — such as a second language, leadership experience and technical training — to launch a career back home.
On Thursday, hundreds of returned volunteers will attend a career fair at Peace Corps Headquarters in Washington, D.C., featuring approximately 40 employers from federal agencies, private companies and nonprofit organizations such as the Smithsonian Institution; John Snow, Inc.; and Teach for America.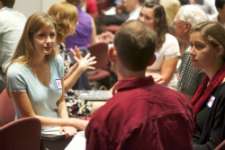 On Friday, Peace Corps will celebrate "Take an RPCV (returned Peace Corps volunteer) to Work Day." Returned volunteers will visit workplaces around the country to share stories from their international service, promote a better understanding of their host country and demonstrate the valuable skill sets they bring home from work overseas. Throughout the week, members of Congress who are also returned Peace Corps volunteers — including Congressman Tom Petri (WI-06), Congressman Sam Farr (CA-20), Congressman Mike Honda (CA-15) and Congressman Joe Kennedy (MA-04) — will host returned volunteer job seekers who want to experience life as a legislator on Capitol Hill. Returned volunteer job seekers can find employers to visit through the Take an RPCV to Work Day Guide.
Each day of Peace Corps Week features a theme that ties to the third goal of the Peace Corps mission: promoting a better understanding of other peoples on the part of Americans. For a full list of themes and suggested activities, visit the Peace Corps Week page. Search for a Peace Corps week event in your region or state by visiting the Peace Corps Events page.
About the Peace Corps: Since President John F. Kennedy established the Peace Corps by executive order on March 1, 1961, more than 210,000 Americans have served in 139 host countries. Today, 8,073 volunteers are working with local communities in 76 host countries in agriculture, community economic development, education, environment, health and youth in development. Peace Corps volunteers must be U.S. citizens and at least 18 years of age. Peace Corps service is a 27-month commitment and the agency's mission is to promote world peace and friendship and a better understanding between Americans and people of other countries. Visit www.peacecorps.gov for more information.
# # #
---