FOR IMMEDIATE RELEASE:
Friday, March 21, 2014
Peace Corps Volunteers Worldwide Work to Expand Access to Clean Water
WASHINGTON, D.C., March 21, 2014 – In honor of International World Water Day, held annually on March 22, the Peace Corps celebrates the work of volunteers around the world to increase access to clean water and improve health and hygiene among people in the communities they serve.
Peace Corps volunteers work at the grassroots level in collaboration with local governments, clinics, non-governmental organizations, and their communities to raise awareness of the importance of clean water and sanitation, and design and build potable water sources and sewage and irrigation systems.
First designated by the United Nations General Assembly in 1993, World Water Day brings attention to inequities in access to safe drinking water, adequate sanitation, and sufficient food and energy services, and advocates for the sustainable management of freshwater resources.
Below find three examples of Peace Corps volunteers' water and sanitation projects that are making a difference.
Dominican Republic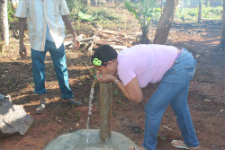 Peace Corps volunteer Jennifer Vettel of Gainesville, Fla., recently celebrated the completion of a clean water system that serves two communities in the Dominican Republic. The communities previously obtained water from contaminated rivers and springs nearby – the same rivers where people kept their pigs, washed their motorcycles and bathed.
The project included the construction and installment of nine kilometers of PVC pipes, a 30,000 liter water tank and a spring intake structure. The new system will distribute clean water to more than 70 homes, two churches, and one elementary school, providing easy access to clean water.
"We will be training plumbers and health promoters in the coming months to tackle the sustainability and sanitation concerns in the communities," Vettel said. "I am confident that in 20 or 30 years when I return, this system will still be functioning and providing clean drinking water to all."
Indonesia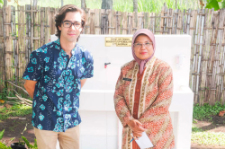 Peace Corps volunteer Matthew Borden of Benicia, Calif., recently finished a project that brought three hand-washing stations to a local school in Indonesia. More than 550 students and staff will benefit from the new hand-washing stations, which each feature four faucets, a sink and a soap dispenser.
"At this school, there were no sinks and soap was not easily available," Borden said. "What's more, the school could only provide enough water to operate toilets for half a day. Additionally, many students believed rinsing with water alone is comparable to washing with soap. Considering these conditions, it's no surprise students fall ill so often."
At a ceremony held to celebrate the project's completion, government health workers demonstrated proper hand-washing techniques, and students and staff committed to using and maintaining the hand-washing stations.
Namibia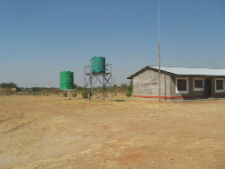 Peace Corps volunteer Andre Heard of Pinecrest, Fla., recently completed a project that is delivering clean drinking water to his community in Namibia. Three 10,000 liter water tanks were connected to a local school, and a solar-powered pump was installed in a new borehole well that is providing clean water from 50 meters down. Previously, people in Heard's community had to travel to a nearby river that was contaminated and home to crocodiles to get water.
"Now our school has running water – there are two water taps at school for the kids, and our teacher houses also have running water," Heard said. "Additionally, we ran a pipe out to the community so that they could fetch water without having to come into the school."
To learn more about World Water Day 2014, visit www.unwater.org/worldwaterday.
About the Peace Corps: As the preeminent international service organization of the United States, the Peace Corps sends Americans abroad to tackle the most pressing needs of people around the world. Peace Corps volunteers work at the grassroots level with local governments, schools, communities, small businesses and entrepreneurs to develop sustainable solutions that address challenges in education, health, economic development, agriculture, environment and youth development. When they return home, volunteers bring their knowledge and experiences – and a global outlook – back to the United States that enriches the lives of those around them. President John F. Kennedy established the Peace Corps in 1961 to foster a better understanding among Americans and people of other countries. Since then, more than 215,000 Americans of all ages have served in 139 countries worldwide. Visit www.peacecorps.gov to learn more.
# # #
---