FOR IMMEDIATE RELEASE:
Wednesday, October 31, 2012
Peace Corps Volunteers Worldwide Teach Students and Community Members About Halloween
WASHINGTON, D.C., October 31, 2012 – Peace Corps volunteers worldwide are teaching community members about American Halloween traditions, exemplifying the Peace Corps' second goal to promote a better understanding of Americans on the part of people served. Following are examples of past and present Halloween-related activities led by Peace Corps volunteers.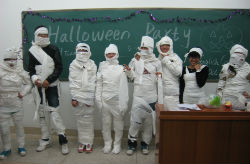 China
Ciara Rowley of South Daytona, Fla., encouraged her writing students to compose scary Halloween stories. Rowley also taught a brief history and cultural background of Halloween.
Megan Trott of Fort Washington, Md., spent an entire school week teaching Halloween-themed English lessons to her students. The class learned Halloween vocabulary terms and the basic history of Halloween in the United States. For homework, students wrote scary stories based on their new vocabulary, and Trott offered the students candy if they read them out loud the next day.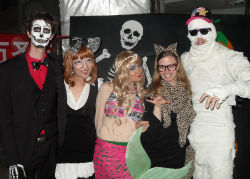 Katie Dowson of Lodi, N.J., plans to host a Halloween party with her English club students. Participants will bob for apples, dance to Halloween music and wrap each other up into toilet paper mummies.
Republic of Georgia
Last year, Peace Corps volunteer Goodloe Harman of Fredericksburg, Va., taught his students about trick-or-treating, jack-o-lanterns and encouraged them to dress in costumes. This year, Harman plans to let each of his classes design and carve a pumpkin. On Halloween day, he will tote a big bag of candy for trick-or-treaters.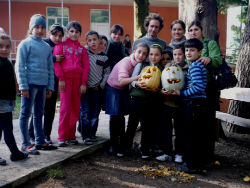 Ukraine
Cheryl Pratt of Waterville, Maine, brought the Halloween spirit to her Ukrainian secondary school last year through pumpkin carving, food and Halloween-related games. A few of Pratt's students made their own masks while others dressed in costumes. Students also learned simple Halloween poems and recited them at the school-wide Halloween party. Additionally, Pratt taught her students about the tradition of trick-or-treating.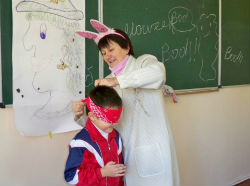 About the Peace Corps: Since President John F. Kennedy established the Peace Corps by executive order on March 1, 1961, more than 210,000 Americans have served in 139 host countries. Today, 8,073 volunteers are working with local communities in 76 host countries in agriculture, community economic development, education, environment, health and youth in development. Peace Corps volunteers must be U.S. citizens and at least 18 years of age. Peace Corps service is a 27-month commitment and the agency's mission is to promote world peace and friendship and a better understanding between Americans and people of other countries. Visit www.peacecorps.gov for more information.
# # #
---