FOR IMMEDIATE RELEASE:
Monday, September 8, 2014
Peace Corps Volunteers Worldwide Promote Reading and Writing on International Literacy Day
Washington, D.C., September 8, 2014 – Peace Corps volunteers work with local communities around the globe to promote literacy through projects focused on reading and writing. In celebration of International Literacy Day the Peace Corps recognizes the work of volunteers worldwide who support literacy initiatives in the classroom and at the community level. Currently, 40 percent of Peace Corps volunteers work in the education sector.
The United Nations Educational, Scientific and Cultural Organization (UNESCO) first established International Literacy Day on November 17, 1965 to highlight the importance of literacy to individuals, communities and societies worldwide. The theme of International Literacy Day 2014 is "Literacy and Sustainable Development," and hundreds of events are taking place to raise awareness around the importance of literacy as it relates to achieving development goals.
Below find three examples of Peace Corps literacy projects from around the world.
CAMEROON
Peace Corps volunteer Paul Thomas of Pleasanton, California, is using technology to encourage students to independently read, write and pursue their interests. Thomas recently used donated funds to purchase two computers and is teaching his students to use the internet to further their reading, writing and English language skills so they can explore subjects they find interesting.
"During one activity I asked my students to follow written directions found on the internet to make tofu," Thomas said. "My aim was to prove that even after I leave they will still be able to teach themselves anything they are interested in. The project was a huge success."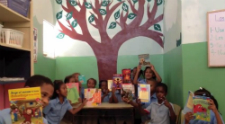 DOMINICAN REPUBLIC
Peace Corps volunteer Caitlin Meyer Krause of Norfolk, Nebraska, recently worked with local teachers, parents and students to organize a library committee and transform a large, unused school closet into a community library. The new library serves as a place for students to read and for teachers to conduct tutoring sessions and access classroom resources. The committee also recruited local high school students to facilitate a tutoring program for the younger students learning to read.
"The library is important because it allows students to interact with books beyond the textbooks available in their classrooms," one local teacher said.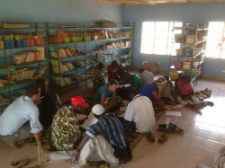 THE GAMBIA
Twenty-two Peace Corps volunteers from five regions recently biked to 25 local schools to train interested teachers on the importance of reading aloud to students and creating reading-centric lesson plans. Throughout the week-long initiative 172 teachers were trained.
During each training session the volunteers demonstrated ways to engage students through reading aloud and encouraged the teachers to practice reading aloud to each other using books from the school library.
Participants were also trained to create interactive lesson plans to encourage reading. After the trainings were completed the volunteers worked with teachers and community members to organize reading competitions between the schools.
About the Peace Corps: As the preeminent international service organization of the United States, the Peace Corps sends Americans abroad to tackle the most pressing needs of people around the world. Peace Corps volunteers work at the grassroots level with local governments, schools, communities, small businesses and entrepreneurs to develop sustainable solutions that address challenges in education, health, economic development, agriculture, environment and youth development. When they return home, volunteers bring their knowledge and experiences—and a global outlook—back to the United States that enriches the lives of those around them. President John F. Kennedy established the Peace Corps in 1961 to foster a better understanding among Americans and people of other countries. Since then, more than 215,000 Americans of all ages have served in 139 countries worldwide. Visit www.peacecorps.gov to learn more.
# # #
---